In today's competitive world, gaining your dream job is a greatest thing to achieve. Employers often prefer recruiting candidates who are perfect in each and every thing they do. Thus, the only way to impress and realize the employers that your are the appropriate candidate is to draft an effective and error free resume. Any small mistake in your resume can create a severe drawback and decrease your chances of getting selected. Apart from resume mistakes, candidates are unaware of many other reasons that snatch away their job opportunities. Following are some of the common mistakes made by applicants while applying for a job or going for an interview.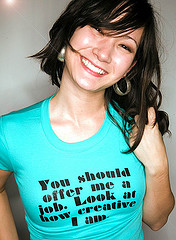 Your Social Media Profile: After going through an impressive resume, employers now-a-days go through the candidate's social media profiles to gain some additional knowledge about the applicant. Thus, make sure you keep your social media profile clean to ensure it doesn't become a reason for your rejection. Avoid uploading any photos, videos, or information that can snatch away a precious job opportunity from you.
Irrelevant Information in Resume: Your resume is the first impression of you in front of the employer. Thus, make sure you draft an effective and error free resume. Your resume must include all the essential information relevant to the applied job position. All the important segments in your resume such as the career objectives, key skills, and experience must provide adequate information to the employer that will help them in judging your eligibility for the applied job position. Including any irrelevant information in your resume will create a bad impression of you making an employer realize that you are unaware of the job profile and are inappropriate candidate for that particular job.
Fake Information: Candidates often include fake information in their resume in order to impress the employer and gain their dream job. However, applicants must understand that each and every information in your resume is verified by the employer before they actually call you for the interview. Thus, any fake information in your resume can definitely snatch away a good job opportunity from you.
Inappropriate Dress Code: This is another common reason for rejection among the candidates. Many a times, applicants are unaware of the dress code for the interviews and end up wearing casuals. Your dress code is your first impression on the employer when you go for an interview. Thus, an applicant must be well dressed in formal shirt, trouser, and shoes. Wearing a tie would definitely add more effect on your personality.
The above points well help you understand some of the common mistakes made by applicants while applying for a job. Your career is the most important thing in your life. Thus, avoid making any mistakes that would snatch any good job opportunities from you and restrict you from building a bright career.
---
Ana can provide more information on career guidance and help you take your career at top. Visit www.bestsampleresume.com/