You get more house for your money when you combine rooms. Here are a few ways to do that.
Home shows on TV encourage us to dream big and imagine that we can have it all. The modern home concept in North America is to have a room for everything. That is, a single room for each purpose.
In fact, we often see several rooms for a single purpose on these shows. This is especially true with bathrooms. There's the main bathroom, the master suite bathroom, the ensuite bathroom and the other bathroom.  How many bathrooms does one house need?
Most of us just don't have the money to own a house big enough for only single-purpose rooms. The solution is to combine purposes. I do not suggest combining the bathroom with other purposes, but there are ways to combine other rooms.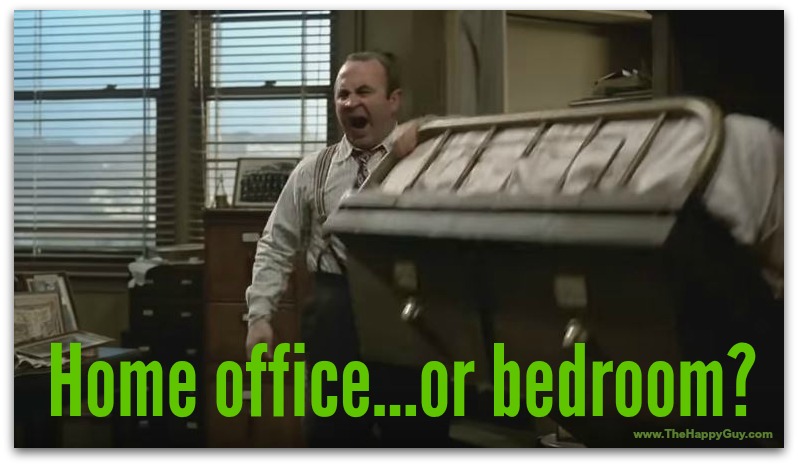 Perhaps the most famous way to combine rooms is with the bedroom. Have you ever heard of a wall bed? No? Refresh your memory with this scene from Who Framed Roger Rabbit. A wall bed folds up into the wall. That leaves room for a living room by day and a bedroom by night.
You would be surprised at all the modern options for wall beds, driven in large part by the high price of floor space in urban condo apartments. A search for "wall bed" in Google will make your eyes pop.
Another very popular combination is the home office. That same scene  from Who Framed Roger Rabbit shows Eddie Valiant's desk. Yes, his bedroom, living room and home office are all one.
Our house is full of home offices. One is in the living room, not because we need yet another home office, but so that work can be done while watching TV and in the company of the rest of the family. (That is not for me, by the way. I find TV and family to be too big distractions!)
You don't have to get so drastic. One of the best combinations is home office and guest room. Both of these are used only occasionally, so the conflict between the two is minimal. And if space for a guest room is limited (as in, there is no space), a wall bed in the home office might be just the ticket. This is the best way to make a home office double as a guest room according to the experts at a local furniture store in New Jersey.
Of course, wall beds are not the only option. We have others. A sofa bed can quickly turn a living room into a guest room. Two sofa beds can turn it into a dorm. We've done that.
In fact, we've done more, because we occasionally have multiple guests. We live out in the country, so driving distances are long when friends and family visit. It's not uncommon to have three sets of family or several teenage sleepovers stay the night.
Inflatable beds to the rescue!
These days, inflatable beds are almost as thick as a bed is high. No more sleeping on the ground. And they blow up easily with an electric pump. No more huffing and puffing.  Just wait for them to invent inflatable tables!
Home offices can also work well in closets, either in the bedroom or in the hallway. A desk fits easily into a closet. A chair fits almost completely under the desk. Doors close behind the chair and a home has a clutter-free home office. The closet can even still be used for storage above the desk level. I do not suggest doing this in a broom closet: too narrow and too dusty.
Another popular combination is living room and dining room. Many homes don't have room for a separate dining room. But if the living room is big enough for a table, why not?
When we lived in a Toronto condo apartment, there was no obvious space to eat. The kitchen was tiny, with no room for even a one-person corner table. So our living room had to double as a dining room. And our sofa bed made the living room triple as a guest room. Yes, we lived the Eddie Valiant all–rooms-in-one lifestyle.
But we didn't combine the bathroom with anything. That would be a pretty last resort.