Plastic can be useful. Disposable plastic is almost always wasteful. Canadians, it's your turn to make a difference and put an end to disposable, single-use plastics in Canada.
The government of Canada has proposed to end some disposable plastics, and it wants to know what you think. Do you think it wants to ban too many types of disposable plastic, or do you think it should ban even more?
To be honest, the government is proposing to ban more types of single-use plastic items than I expected. But the list falls far short of what could be done, and some of the most wasteful and easiest to ban disposable plastics did not make the list.
This is where you can help.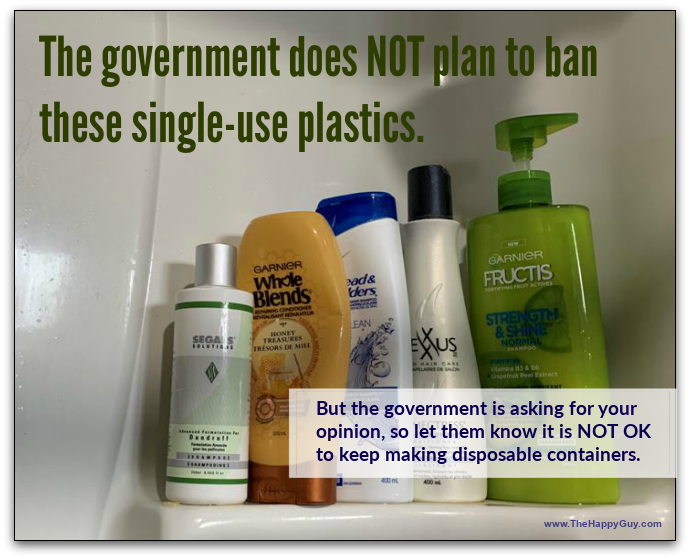 The Government of Canada is asking for your feedback:
This discussion paper is seeking input on a proposed integrated management approach to plastics to take a number of actions, including regulations which would be developed under the provisions of the Canadian Environmental Protection Act, 1999 (CEPA).

Here's a link to the discussion paper:
The formal consultation period is over, but a letter expressing one's view is never a lost cause. Politicians and bureaucrats are highly sensitive to what people are thinking, even when there is no formal consultation in place.
Parties wishing to comment on any aspect of this paper, including the categorization of single-use plastics and proposed management approaches, are invited to provide written comments to the Director of the Plastics and Marine Litter Division of ECCC by December 9, 2020 at ec.plastiques-plastics.ec@canada.ca.
Yes, you can help change the course of disposable plastics history. Here is what I suggest you do.
Let's ban single-use plastic containers for soap, shampoo, conditioner, hand cream and tooth paste
These are soooo easy to get rid of that it's almost a no brainer. For more details, here is my blog post on these single-use plastic containers.
Then, write to the Director of the Plastics and Marine Litter Division of ECCC by December 9, 2020 at ec.plastiques-plastics.ec@canada.ca.
Not sure what to say? Here is what I wrote:
Dear Director.

Thank you for the opportunity to comment on A proposed integrated management approach to plastic products: discussion paper.

You are off to a great start, so thank you for the effort you and your team put into reviewing the wide array of wasteful plastics Canadians use daily.

Please add soap, shampoo, conditioner and hand cream bottles, as well as tooth paste tubes to your list. Indeed, you could add any personal care product that comes in a liquid or cream form.

All these products are available in unwrapped bars right now. Indeed, the majority of soap is already sold this way. It would take a matter of months for factories to re-tool and sell their products in less-polluting bars. There is no reason these products need to be wrapped in disposable bottles.

Furthermore, manufacturers could easily dispense liquid shampoo and conditioner, as well as hand cream, soap and toothpaste, at point-of-sale. We do this with gasoline. We do this with beverages at the cafeteria. We don't throw away the old gas tank when it comes time to fill up, so why throw away a shampoo bottle when it's time to fill that up?

There are options for every type of consumer. There are options for industry.

Bonus: shipping all that shampoo and conditioner to stores in solid form, or even in bulk for dispensing, will reduce Canada's carbon footprint, helping the Government of Canada to meet another important planet-saving goal.

I look forward to seeing an expanded list that includes these "low-hanging fruits" in 2021.
Don't copy my words; use your own. Add to the list if you can think of other products that come in single-use containers that could easily be replaced. Refer to your own feelings and your own experience. Tell the government how you would prefer to buy these products in some way other than in a disposable bottle. A single personal letter is worth more than hundreds of form letters.
Canada is a democracy. We get our say between elections on important issues like this. There might not be this good a chance to make a difference in reducing plastic waste for another decade or two.
So take a few minutes to make a big difference now, while the door is open. Send your comments to ec.plastiques-plastics.ec@canada.ca today.