Everybody gets hurt sometimes. And everybody needs somewhere to mend. Here are some ideas for mending places.
People break.  It happens all the time.
But people patch themselves up pretty well most of the time.  Most breaking is like hurt feelings or loneliness or paper cuts.  They go away.  They mend on their own.
In my younger days, I would go down to the river to recuperate.  I would sit on a big rock and just watch the water flowing by. The water was soothing, and my troubles seemed to melt away. It seemed like the perfect place to mend.
Everybody has a place to mend, whether it's a physical place of a state of mind.  Meditation works for many. So does yoga.  Heavy metal cranked up loud might work just as well for you.
There are times when you need something stronger.  I don't mean alcohol – that's never a place to mend. But I do mean something that pushes deeper, a place where you can dig out whatever is breaking you.
Sometimes that place is close to home. Sometimes it is farther away. Last year, I wrote about a program that helps people recover from alcohol in the privacy of their homes. They don't have to go very far to find a safe haven for mending.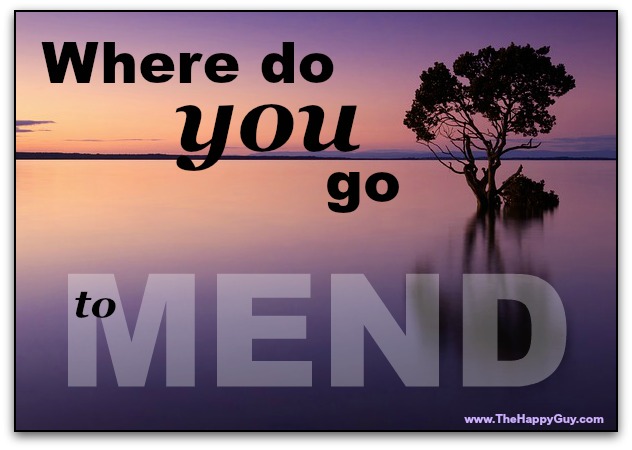 But sometimes you'll want to go away to mend.  Sometimes you need to be somewhere else. You might need a vacation. Or, if you are broken by an addiction, you might need treatment. Some people mend well at hospitals; they sure come in handy when you need medication delivered by IV.
Other times, treatment centers are best when they look like anything but a hospital. For instance:
a resort
a ranch
a mountain cabin
anywhere near water
Sometimes what's broken is your heart. In fact, that happens quite often, and not just in country music.  Most people have their heart broken a few times. And in most cases, time is the only cure.
Still, most people go somewhere to mend.  In country music songs, they go to a bar to drown their sorrows in whisky (and we can only presume that sometime later, they'll need a treatment center to cure the alcoholism). Many young ladies run back to their mothers.  In fact, the first place most people head when their heart is broken is back to familiar territory – a traditional home base, family buddies. They reconnect with who they were before the pain.
Here are the lyrics from the chorus of "The House that Built Me", a country song by Miranda Lambert:
I thought if I could touch this place or feel it
This brokenness inside me might start healing.
Out here it's like I'm someone else,
I thought that maybe I could find myself
If I could just come in I swear I'll leave.
Won't take nothing but a memory
From the house that built me.
Sometimes what's broken is your soul. You don't know what you should do with your life. Things don't seem right.  It that spiritual connection. You might need to go to a church. Of course, that might be of little comfort if you are an atheist. Queue silly question: "Where do atheists go to pray?"
Your spiritual side doesn't have a "place".  Churches and temples and mosques are just gathering places.  The spiritual connection can happen there, so I am not discounting them. I have found that sitting in an empty church can help me cut out the distractions when reaching out to God. But that connection can just as easily happen in places like:
a resort
a ranch
a mountain cabin
anywhere near water
anywhere else
The important thing is for you to find that place.
Whatever ails you, there is a place to fix it.  Having a place is the first step to mending, because that gives you a point of reference to start.