Sometimes, you just have to take time to give a laugh at the English language. This is one of those times.
I was just told that: "There are two kinds of people in the world: givers and takers. Takers might eat well, but givers sleep better at night."
Aha!
Here I was thinking that my lack of sleep was due to stress, an overactive imagination and too much pizza. Now I learn that my lack of sleep is from taking too much and not giving enough. So I set out to give as much as I could.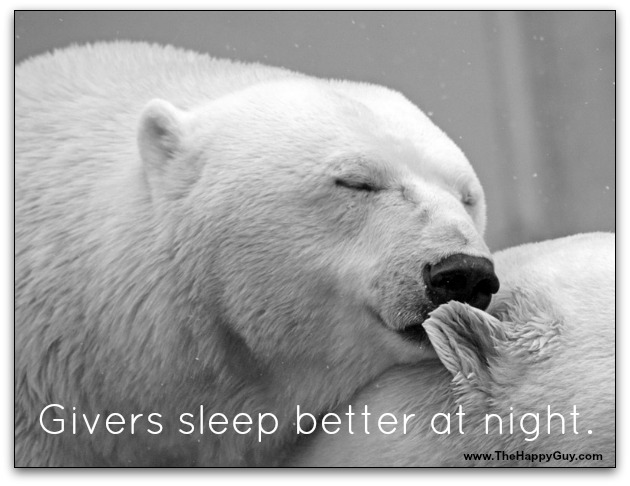 I decided to start by giving advice. "The blue would look better on you."
"What?" my wife asked. "You never comment on what I'm wearing. At least, not voluntarily."
"It's my new sleep therapy," I explained with excitement. "Givers sleep better than takers, so I just gave you some advice."
"Well, while you're at it, is there anything else you want to comment on?"
I saw my chance to give a compliment. "Overall, you are really beautiful."
"Why, thank you."
I was on a roll. I was really giving. This was my chance to give her my opinion. "Your hair is kind of ugly like that."
"What?! You take that back!"
"No, I can't," I protested. "I can't take it back."
"You'd better!"
"No, no, no. That would make me a taker and then I won't be able to sleep."
"Then you can just take your silly opinions and get out of here."
"No, I can't do that. I can't take …" My sentence was cut short by the hard realization that my nose and a door could not occupy the same space at the same time.
I decided to call my mother. "Hi mom. I thought I would give you a quick call."
"How sweet. You took the time to call your mother."
"No. No. I just gave you a call. I didn't take anything," I protested.
"Oh yes you did. You even took my advice to call more often. And you took account of your mother's happiness. And you took … Hello? Hello?"
I just could not take any more. Literally. I scrambled out the door, the phone still lying on the table.
I had to take off. No, I couldn't do that. That would be taking. Dear me, English is complicated. Taking off would just keep me from sleeping. I saw my neighbor. Ah, my neighbor! Surely I could give him a hand.
"Sorry. Today I'm just relaxing." He studied the knots of tension in my face. "Say…you look a little stressed. Maybe you should take a break, too."
"No, I can't take a break. Takers don't sleep well at night."
"Well, at least you're taking a stand on something."
"I am NOT taking a stand," I protested. Egads! I was taking stand. I was taking a stand against taking a stand.
"Take it easy, bud."
Yikes! My neighbor was trying to turn me into a champion taker. I darted back toward my house in a state of panic.
"Take care," my neighbor called after me.
"Noooooooooo…" I screamed with my hands over my ears.
Crouched in the safety of my favorite closet, I tallied up the day. I gave:
advice
a compliment
my opinion
But I took:
it back
my silly opinions
the time
my mother's advice
account of my mother's happiness
off
a break
a stand
it easy
care
Oh, no. I gave three times and took 10 times.
No wonder I wasn't sleeping well at night. I was truly a taker. There was nothing left to do but to take a sleeping pill. That should give me at least five hours of sleep, give or take a few. Then again, maybe hiding in a closet was the reason I wasn't sleeping well.