Dreaming of Hawaii? Me, too. It's far away, but why not keep dreaming? Here's what we are missing.
When my oldest daughter was very young, she had an imaginary friend called Lulu.  She came from…you guest it, Honolulu. Lulu was staying at our place so that she and my daughter would set up a "beauty shop".
If you somewhat more adult fantasy also includes Honolulu, here are a few things to feed that fantasy.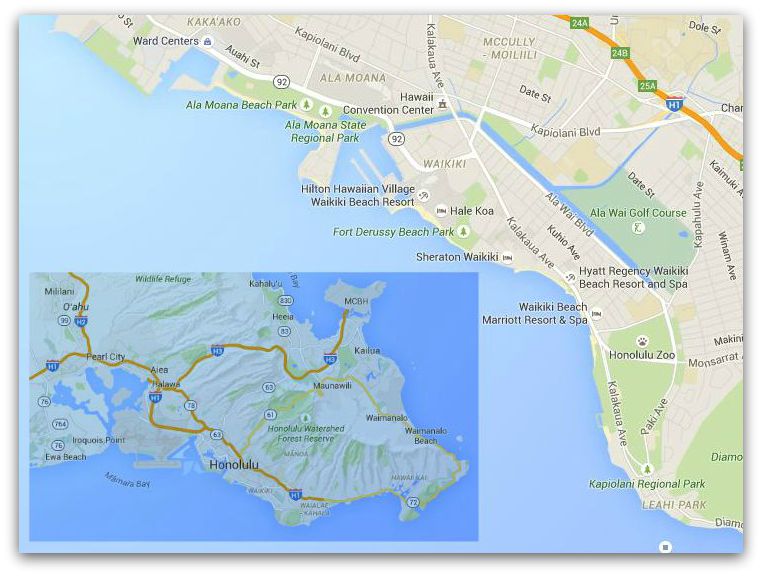 The beach!
Quick, name the most famous beach in the world.  Chances are you just named Waikiki Beach.  Thanks to songs from the likes of the Beach Boys and Chicago, this surfer's paradise is well known to an audience far wider than will ever have the chance to visit.  But you do have the chance to visit if you vacation in Honolulu. See by the map above how close it is to central Honolulu?  You can also see how close the beach is to preferred Honolulu hotels, making it easy to schedule in the beach after a day of sightseeing, or even just as a mid-day break.
Waikiki is not the only beach in and around Honolulu.  Remember that Hawaii is a string of islands, and just on Oahu alone, there are enough beaches to keep you hopping from one to the other for a couple weeks.  But you won't want to spend all your time on the beach, because Honolulu has so much more to offer.
The history!
Honolulu is a city steeped in history from long before it became part of the United States.  Iolani Palace is one of the highlights of any visit to the city.  Built in 1882, it was the official residence of the last two monarchs of the Kingdom of Hawaii – King Kalakaua and his sister and successor, Queen Liliʻuokalani. It is the only royal palace standing on US territory.  Docent-guided tours and self-guided tours are both available.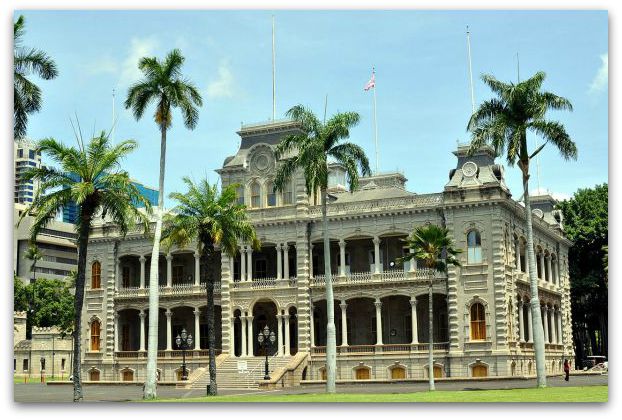 Many of the local attractions that top the lists of things to see are One place that virtually every family wants to see is the USS Arizona Memorial. The memorial helps commemorate one of the most important events in the country's history and is an excellent way to make the past come to life. Another important historic place is the Iolani Palace, an elaborate residence. Visiting the palace will provide a whole new appreciation for the way early rulers in Hawaii lived.
Few events in the history of the United States were as momentous as the attack on Pearl harbor.  Did you know that the military base is located just outside the city of Honolulu, as you can see in the map inset above (between Honolulu and Pearl City).  There are tours available, and it is considered a must-see for anybody visiting the city. The USS Arizona Memorial is free for all to enter, and is pictured from an aerial view in the photo below.
Double the culture!
One of the most exciting aspects of Hawaii is the culture.  Americans can visit on home soil a part of their own country where their own culture thrives side-by-side with a form of Polynesian culture unique to Hawaii, much of which pre-dates Us involvement on the islands.There are several places, such as the Polynesian Cultural Center, that provide visitors with a fascinating introduction to local cultural life. You'll appreciate the fact that, although Honolulu is a major city, there is a friendly, laid-back pace reflective of Polynesian culture.
The food!
Many restaurants and food stands in Honolulu offer unique foods and treats, that you won't find elsewhere in the United States.  One of these is Hawaiian shave ice.  This treat resembles a snow cone, but it uses shaved ice instead of crushed ice.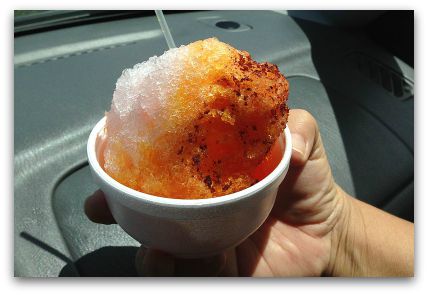 Do I have to say pineapples?  And coconuts?  And bananas?  Hawaii, with its tropical climate, offers fresh food traditions unique to these islands
Transportation!
Getting around is a breeze.  The city is not all that big, and it's pretty qucik to get out of town to explore the Island.  And within the city, everything is close by. Even if you don't stay at a hotel within easy walking distance of everything you want to see and do, the attractions are never far away. Renting a car is an ideal way to get your gear and kids to and from the beach, or to roam around the Island. Several shuttle options are available, especially to and from hotels. There are also city buses.  Kids enjoy traveling by trolley, and this is a fun way to get around, too (worth doing at least once, just for the experience). There is also bus service to and from the USS Arizona Memorial and Pearl harbor.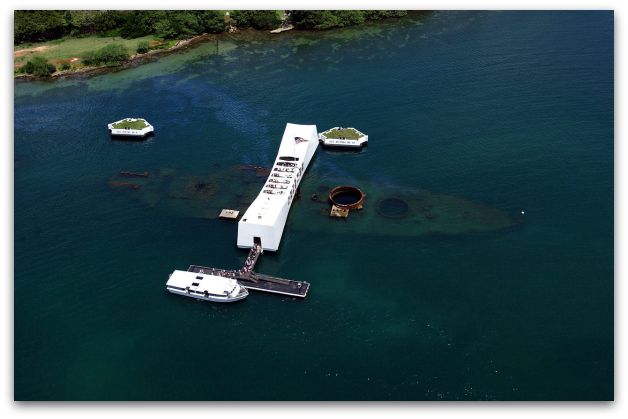 Timing!
There is no bad time to visit Hawaii.  The weather is perfect almost all the year round.  Check for air fares, though.  There can be a big difference from one month to the next, especially base on school schedules.  If you are traveling with kids, you might have to choose between higher air fares and pulling them out of school for a couple weeks.  The flight is a large part of the cost, and for a large family timing can make a huge difference in the budget.