There are ways to make extra money without spending a lot more time. here are a few of them.
Chances are you hold a "nine to five" job even if the hours aren't exactly nine to five. Five days a week or more, there's a workplace you go to spend eight or more hours of your life. It's the time-tested way to make a living and just about everyone has to participate, one way or another. Even the bosses.
Folks in need of extra money, but already devoted to a traditional full-time job, often feel like they're in a tight spot. Two schedules add up to practically zero time available for personal errands, family obligations, and relaxation.
Fortunately there are several ways to earn more income without taking on another traditional line of work. These opportunities allow you to make your own schedule, fitting your second income into the cracks in your schedule – "unscheduled" time – leaving you with at least some freedom to take time off when you need it rather than when it's available (which would be pretty much never).
Investing
Enabling existing wealth to make money on its own is the ideal situation for just about everyone, even if you start with very little money. Last year, I ghost-wrote a book on how one hour a day at the laptop is enough to do very well for oneself by following some basic principles and not getting too greedy.
However, investing can be easier said than done, considering how complex the many markets are for investing and how often we let emotions interfere with our common sense. Investment opportunities include bonds, futures, mutual funds, options, precious metals, and real estate, each with its own set of rules, regulations and strategies for success. Would-be investors need to consult expert advice before going forward.
Folks learning about binary options, for example, may want to visit the 24option blog to learn more about how they function, as well as investing topics as diverse as the future of BMW stocks and when is the right time to buy gold.
You can read some of my apparently controversial advice on investing at posts like this one on why seniors should take some risks.
Investing, when done responsibly with long-term goals in mind, provides extra income without having to adhere to a schedule or place of work. Better yet, there's no actual work involved. With that said, investments are not to be made without careful due diligence. Make sure that you have checked and double-checked any investment before laying down your money..
Ridesharing
Services such as Lyft and Uber are enabling anyone with a four-door car to make money as a cab driver part-time – well, almost anybody. Uber has been locked out of British Columbia, but surveys show that the more familiar people are with Uber, the more they want the service in their area and the less they want to see it banned or regulated.
Just about every major city in the world now features such "rideshare" services. To start, drivers need to submit information about their driving record and vehicle and install an app on their phone. Most of the time, the hiring process involves no interview or phone call. Money is direct deposited every week.
Rideshare opportunities are great for folks who are already committed to a nine to five, because ridesharing hours are completely up to the driver. When you wish to be available for pickups, you click the app and wait. When you want to take a break or are done for the time being, just click the app again. It's a simple as that.
Plus it gets you out of the house and into social contact with new people. This is not ideal for extremely shy people, but…maybe it is just the tonic that extremely shy people need.
Online Sales
"One person's trash is another one's treasure." – so goes the garage sale and flea market mantra. And now that comes to the Internet, thanks to the likes of eBay, Amazon, Kijiji and Craigslist. Never before has the seemingly used and washed up products of someone's past had this much power to take on a new life (great for the environment!) to be sold to someone else for a profit. Sifting through local thrift stores to find gems that can then be sold online for an incremental (or sometimes phenomenal) mark-up can add up to significant earnings over the course of a year.
The best part is this can be done at your own pace. Lunch hour at work is a great time to run down to the second-hand shop and peruse the items added that morning. Whenever chores are done at home for the evening, log into your account and post the item for sale. Wait for one of your closest 3.2 billion friends to come across it and click "purchase."
With time, you will learn unique ways to get your items in front of the right audiences, and the "work" will seem almost effortless.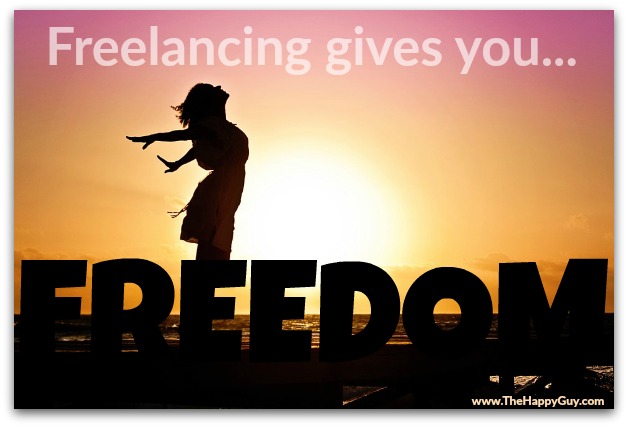 Freelance
Are you a good writer? Can you write code? Do you have a gift for design? Got some experience with video recording? If you have a skill, somebody wants to hire you right now.
There are plenty of blogs seeking writers, which you can easily find on Craigslist and the Problobgger job board. Many of them are willing to offer a reasonable rate for the content you provide. That content might range from tips on how to keep a cleaner home to movie reviews to business advice; the needs touch on just about every interest and field of professional experience. The more you write, the better the fee that your work will command.
And for every content that is written, an image needs to be developed. Often, that means outsourcing to people to you. The same goes for video, for coding and for all sorts of social media and marketing tasks.
Not sure what skill you have that someone might want? Go to Fiverr and see what services are being offered and which of those you might offer, too. Or if you don't think you have the skill yet, which skill(s) you would like to develop.
Deadlines exist in the freelance world, whether it is for writing or video production, but they are often more lax than the typical obligations of a nine to five job. If your daughter needs a ride home from soccer practice because her BFF's '91 Escort broke down in the parking lot, it's no big deal to stop mid-sentence and come to her rescue, then pick up where you left off when you get back home. Try doing that when you work for a bank or a garage or a restaurant or a government department.
There's freedom in freelance.
Earning more income on top of a 40 hour work week sounds like an exhausting, punishing ordeal. Sure the lights are kept on and food is on the table, but you're never around to enjoy it, right? But if you pick a second income opportunity that offers flexible, "unscheduled" hours, and pick something you enjoy doing, it's not drudgery.
Luckily there are several unscheduled options to earning extra money.  When seized, they can add dollars to the bank account without demanding every precious hour of spare time in your schedule. These are just four of them.