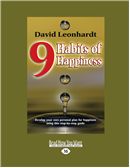 Good news for those who require large print to read comfortably.  My happiness book is now available in large print through DoctorZed Publishing.  You can get your copy of 9 Habits of Happiness (Large Print) here.
The regular edition of Climb Your Stairway to Heaven: The 9 habits of maximum happiness can still be purchased on Amazon.  Here is the description posted there…
Its a manual: Yes, this is a manual for making your life happier. It offers step-by-step instructions for building a happier life through nine important habits.Its a science class: Here you'll find all the science of happiness you can use and more.Its a story book: Chock full of entertaining stories, you'll actually enjoy reading this book. In fact, you may get so lost in the stories that you don't realize how much you learn.Its a fortune cookie: Its a very BIG fortune cookie, sprinkled with tidbits of wisdom handed down through the ages and some invented just for the occasion. It's Super Book: Where else can you find such a blend of self-improvement, psychological science, and entertainment, all wrapped up in a giant fortune cookie?
Or you can pick up an autographed copy through me directly (not the large print version, though). Here's the page.
Montreal Review of Books loves this book:
"His nine habits are achievable. All this is delivered with pop quizzes, stories and quotable quotes. A great spring pick-me-up."