It's not Wendy's. It's not McDonald's. It's not the Colonel. It's…
… your freezer.
Yes, fast food is as close as your freezer. The appeal of fast food is that it is fast. No cooking. No time spent cooking. No cleaning twenty pots and twenty pans. But it does cost a bit – certainly much more than eating in.
Sure, it's fun to make a Nasi Briani stir fry, and much cheaper than eating out, but fast food is – fast!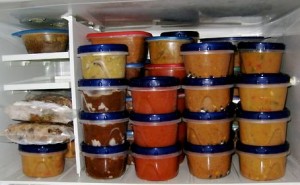 But so is your freezer.
What? Your freezer has tubs of ice cream, frozen peas and something that looks like it once was gravy? Or spaghetti? Or something?
Next time you cook Nasi Briani, spaghetti sauce, any casserole or dish, cook lots. Cook enough for five or six meals. Cook two different dishes at the same time (many of the ingredients might be the same, so you need only grate cheese or chop tomatoes once for two dishes (10-12 meals).
Eat one of the dishes – that's your supper. Yum.
Once the others have cooled enough, separate them into 9-11 containers. Label each with what is in the container – including the date it was frozen, so you can keep track and not leave it too long (ideally, eaten within 6-8 weeks).
Nasi Briani with rice
One portion
April 23, 2012
READ ALSO: The frugal shopper's guide to protein
FRUGAL: So a traditional fast food meal that might cost something like ten dollars to eat, will cost you more like three dollars at home. Not much of a dent in your budget for one day, but if you can replace 100 meals a year this way, you have saved about $700. When you factor in taxes, that's like getting close to $1000 raise!
GREEN: Have you ever given a moment to really review how much paper and plastic and foam you throw away after eating at a fast food restaurant? No? I don't blame you. It's enough to make anyone who hopes for a future on this planet churl their stomach. Save the planet at your own, personal fast food outlet – your freezer.
HEALTH: It's no secret that traditional fat food – oops, I mean "fast" food – is not exactly very healthy. Loaded in fats and sugars, and bearing little resemblance to anything Mother Nature has grown for us, fast food has been fingered as to blame for much of America's obesity epidemic.
PERSONAL: Do you want food prepared just for you, the way you like it. Freezer fast food is 100% customizable. Put in what you want. Nothing more. Nothing less. Like t spicy? Like it mild? Want a big portion? Want a small portion? You decide how you will serve yourself.
Fast food in the comfort of your home, made exactly the way you like it, easy on the planet, easy on your body, easy on your pocket book. Time to check your freezer fast food.