Once upon a time, partner dance was the way couples found each other.  Whole courtships occurred in plain view on the dance floor.  In European countries, happy matches were made when a hand was placed atop a wrist and the couple walked out onto the floor and began to move together, often with little actual physical contact.  Some countries in Africa used, and to some extent still use, dance to attract the attention of a potential husband or wife, the quality of the movement and the ability to move together signifying the potential for a lasting relationship.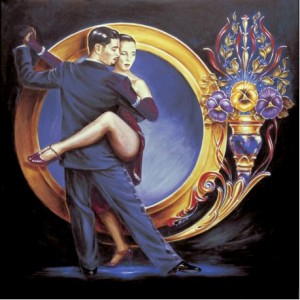 Much of the idea of courtship dance has disappeared over the years, but we still have a fascination with the idea of forming a partnership with someone who can both move us physically and emotionally.  This is a large part of the popularity of romantic dance romances films like  "Strictly Ballroom", the "Step Up" franchise, and "Shall We Dance".  These films are not totally fiction, however.  People who engage in partner dance, are, for the most part, happier than people who do not.
Partner dance is any dance that is characterized by moving in time with someone else.  The most popular partner dances are Salsa and Swing, but there are host of other styles, including Argentine Tango, Zouk/Lambada, Caribbean Zouk, Bachata, Samba de Gafieira, Kizomba, Chacarera, Lindy Hop, and West Coast Swing, to name a few.  The world of ballroom dance, which encompasses waltz, foxtrot, quick step, jive, and various Latin styles in both American and International categories, is wholly separate from the world of social partner dance, and offers a partner dance outlet for those that are more competitive.
Social partner dance occurs at clubs, in churches, outdoors, and in classrooms all around the world, every day of the week.  The quiet man who works in accounting may be the king of Cuban Salsa in your town and the mousy librarian at your local branch may have two or three amateur Swing dance trophies at home.  Partner dance is for everyone and is danced by a wide range of people.  The only requirements to begin partner dancing are a willingness to learn, patience with both oneself and one's various partners, and commitment to practice.
People partner dance for many different reasons.  Some enjoy the social aspect of meeting new people each night and traveling from dance venue to dance venue.  Some people like moving with another person and the physical conversation that can occur when a partner dance is going well.  Some people like the exercise aspect, and use partner dance to break up the monotony of sitting in front of a computer all day.  Whatever their reason for starting, people who engage in partner dance on a regular basis, are generally less stressed, more productive, and happier in their daily lives.
If you are new in town and are looking for a way to meet people, partner dance is a great option.  Do an online search for studios in your area.  Most partner dance studios allow you to try the classes before enrolling in a particular course, so experiment and see which type of dance grabs you.  For people who are a little shy, partner dance is great, because the conversation is done via dance instead of vocally.  If you are interested in using partner dance for exercise, try one of the more energetic styles like Salsa, Lindy Hop, or Samba de Gafieira.
No matter what style you ultimately decide upon, partner dance will improve your outlook on life, your sense of self, and your energy levels.  Though dancing with someone nowadays may not lead directly to marriage, it does aid in the formation of lasting friendships, and it is certain to help you maintain a happy, positive outlook.
---
Article written by S. Black, a passionate dancer and freelance writer. She frequently writes on the arts and about interior design on behalf of a major sectionals retailer.