The wonderful thing about a smile is that you always have an extra to spare. Because as soon as you give it away…Presto! You have another one just waiting to be shared.
One of the four categories of this blog is frugal. That's all about saving money, living simply without the need for very expensive tastes.
Being frugal with money is one thing. Being frugal with smiles is quite another. For most of us, money is a limited resource.  Being frugal means allocating limited funds where they are most needed, rather than being frivolous with it.
Tweet this quote: "Smiles are the ultimate renewable resource. Don't be stingy with them."
But smiles are not limited.  They are the ultimate renewable resource.  No matter how many smiles you give away, you will always have as many as you started with.  In fact, you'll have more, because every smile you share will get you at least one smile shared back, if not dozens.  Loaves and fishes are all very well I suppose, but a smile replenishes itself just as well and it won't go stale by tomorrow.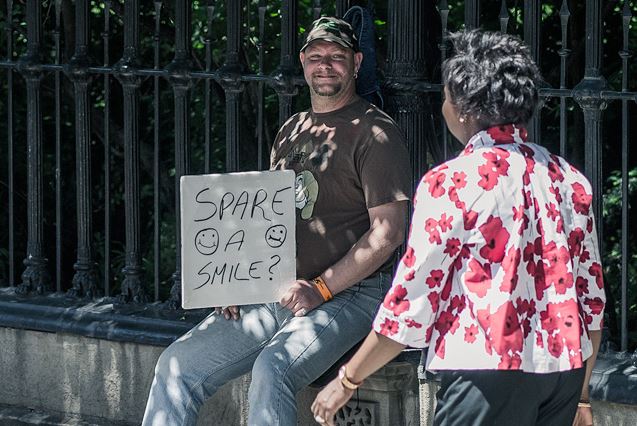 The man in this photo, snapped on Queen Street in Toronto, asks us whether we are willing to spare a smile.
Children spare a smile.  You can too!
Children smile a lot.  They will smile for almost any reason, and for no reason at all.  Adults don't smile nearly as much.  Why?
Smiles open doors.  Do adults not need any doors opened for them?
Smiles make friends.  Do adults not want friends?
Smiles reduce stress.  Do adults like stress?
In fact, the only stress reliever in shorter supply among adults than smiling is laughter.  Yes, that most amazing, all-natural stress reliever that adults seem to find so hard to embrace.
Read also: The Happiness Poem
But laughter is smiling.  It's smiling big and wide.  Did you know that in Spanish the word for smile is "sonreír" and the word for laughter is "reír"?  In French, the word for smile is "sourire" and the word for laughter is "rire".  Coincidence?  I think not.
We have both laughter and smiles in endless abundance.  There is no reason to be stingy with them.  Share as many smiles as you can.  Laugh as often as possible.  Watch how your life improves the more often you spare a smile.
* Photo credit, with permission: Sam Javanrouh