Christmas dinner and Christmas snacking and…oh, how we put on the pounds. Here are some tips to have a lighter Christmas, without missing out on all the fun.
Christmas is a time for celebrating.  For most of us, celebrating means eating with family and friends – usually eating way too much. It is a special time of year, and restricting yourself while everyone else is eating only makes you feel as if you are missing out and means that you are more likely to break later on and binge on foods that are much worse.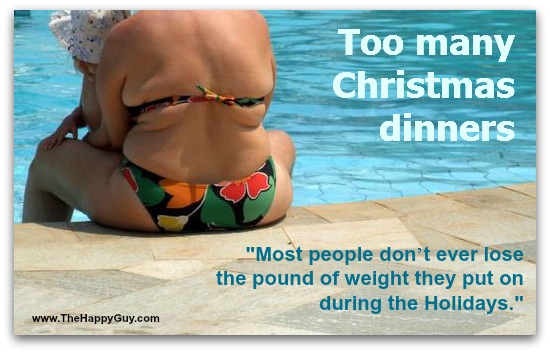 It is fine to eat, so treat yourself with that extra slice of Christmas cake. However, be aware that just because it is Christmas, that does not give you the green flag to gluttony.  I did say "slice", not "slices".
The Christmas meal itself can weigh in easily at 1,000 calories or even up to a shocking 3,500 calories, just for the one meal. That is not taking into consideration breakfast, snacks throughout the day and any chocolate or cakes that get raided towards the evening.  Most people have themselves in the mind-set that during Christmas it is acceptable to over-eat, but this is not the best attitude to have.
It takes a long time to burn off that many calories and that should be considered before you embark on tackling that epic Christmas Dinner.
Whilst some people take Christmas eating to the extreme, the average person eats half a pack of lard in saturated fat and thirty two tea spoons of sugar. Consuming that amount is not good for your body, even if it is only once a year, and you could end up suffering for it in 2014.
READ ALSO: Easy, fun Christmas treats.
Everyone loves Christmas. It is an excuse to get everyone around to the house to have some drinks and good food. However, there are other ways to enjoy the holiday season, too. If you really want to get into the Christmassy mood, put in your headphones in and workout to a Christmas playlist from Spotify, or this one from iTunes.
You might ask for a fitness gadget for Christmas. These little tools are perfect for giving you motivation when it comes to getting out there and burning off some calories. Alternatively you could ask for a gym membership to help keep you physically active all year round. And even if the gadget or gym membership get lost in the back of a drawer over time, they are most likely to be used in the weeks when you most need them after overindulging at Christmas.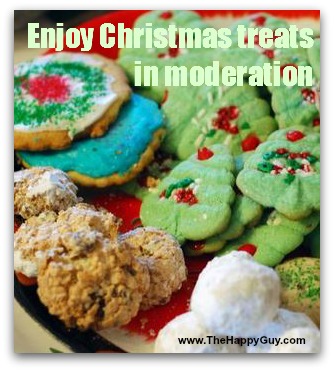 Foods to Eat for Under 50 Calories
50g of cooked prawns – 40 calories
2 florets of broccoli – 26 calories
A slice of ham – 46 calories
½ a cup of sprouts – 33 calories
10 strawberries – 40 calories
A carrot – 30 calories
Two crab sticks – 44 calories
5 green olives – 20 calories
28g smoked salmon – 48 calories
A slice of chicken breast – 27 calories
A pot of sugar-free jelly – 15 calories
A slice of pineapple – 28 calories
75g Christmas pudding – 200 calories
Exercises to Try
A 90 minute hatha yoga class – 200 calories
30 minutes of power walking – 100 calories
15 minutes of breast stroke – 100 calories
1 minute of sit-ups – 5 calories
15 minutes of skipping – 130 calories
3 minutes of bicep curls – 10 calories
15 minute run – 275 calories
5 minutes of lunges and counter push-ups – 160 calories
Make sure that you fit in even a half hour's exercise daily during the busy Christmas season and you will have achieved something that many (most?) people do not do. Adapting your Christmas Day to include some exercise (Snowball fight, anyone?) is a great way to counterbalance your calories intake – and means you can have those little extras without feeling like you have ruined your diet altogether.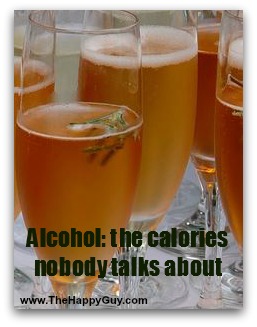 Remember, alcohol is full of calories even if there is no nutrition label to inform you, and that is a big part of Christmas for most people. Using smaller glasses can help you feel like you are not missing out, whilst cutting down on up to half your liquid calorie intake. Here is a great guide to calories in alcohol.
In a similar way, smaller food portions for people trying to lose weight is a fantastic way to accommodate the emotional attachments to certain dishes without putting on too many pounds. That way you are eating and drinking what you usually would, just a smaller portion. This works especially well for deserts. Also consider switching to low-fat dairy products and wholemeal, even if only for the Holidays.  Both of these are lower in calories then their mainstream counterparts.
People typically gain from one to five pounds (two kilograms) at Christmas time, and most never lose it.  Consider this from the New York Times:
Most people don't ever lose the pound of weight they put on during the holidays, according to a report in The New England Journal of Medicine. Since the average weight gain during adulthood is about one to two pounds a year, that means much of midlife weight gain can be explained by holiday eating.
Make sure you enjoy your Christmas meal, just don't spend the rest of the year fighting to lose the weight you put on for that one day. If you need some extra support during the festive season, log on to Curves at any time. They are scientifically proven to help people lose weight, no matter the time of year.  I have known many ladies to use their services and the ones that stick with it (ah, yes, there is that catch) have always been successful.
So don't give up and don't give in.  Enjoy the Holidays in moderation, and keep up – indeed, step up – the fitness program.  Otherwise it looks like you could be carrying an extra pound or two for the rest of your life.
READ ALSO: Why you should take fat seriously.