Parenting young children is tough enough, without having to follow a recipe. This pumpkin cheesecake recipe* was written for parents like you.
Whoever writes all those fancy cookbooks has never been a parent. To begin with, the pages are never spill-proof, almost guaranteeing that somewhere in the middle of mixing ingredients, Little Helper will spill something and cover up the remaining two ingredients listed. This means that parents must learn to improvise.
Get also recipe secrets from famous restaurants.
Some would suggest that the very thrill of cooking is experimentation. So what's the big difference between oregano and cayenne pepper, anyway?
Then there are all those "quick" recipes to "serve your family" gracing the pages of women's magazines. NO recipe is quick with Little Helper's assistance.
For the benefit of parents everywhere, I have taken my favorite pumpkin cheesecake recipe and translated it into parentease. The non-parent version is available in Cooking By The Book — a free bonus I offer with every purchase of The Get Happy Workbook.
Harvest Pumpkin Pie Cheesecake Recipe (Parenting Version)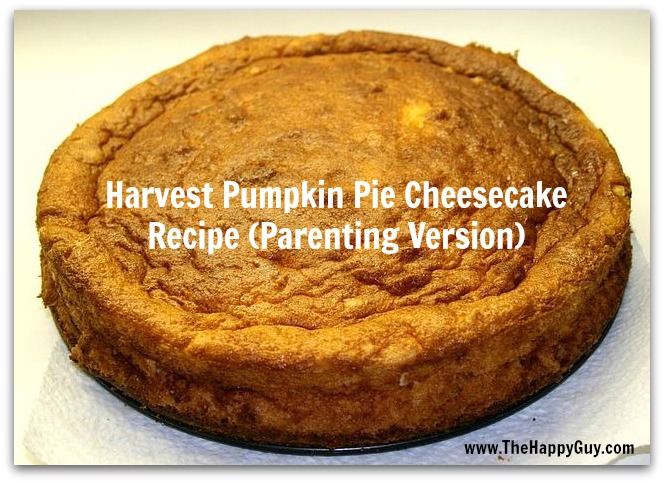 Mix one cup of ginger snap cookie crumbs and one tablespoon of olive oil. Add more cookie crumbs to make up for the ones that disappeared about the same time your Little Helper walked into the kitchen.
Press the crumby oil mixture … "Sorry, that doesn't sound quite right – Little Helper distracted me." Press the oily crumb mixture into the bottom of a 9-inch spring-form pan, and up around the edges about one inch. Put it in the refrigerator to cool – best to slip it in safely behind the broccoli and that thing that's been turning bluish green for three weeks, to deter any impromptu inspirations from Little Helper.
Enjoy also this non-parenting pumpkin soup recipe.
Soften
three bricks of cream cheese
, ideally in the microwave. If you can't separate the cheese from Little Helper's hands, let her keep doing what she's doing until the cheese is good and soft. Cream the cheese with
one and a half cups of pureed pumpkin, three large eggs, two tablespoons of cream, and one cup of brown sugar.
Keep mixing until creamy.
Add one teaspoon of vanilla extract. If you are "fortunate" enough to have help at this stage, you have three options:
Rename it "Harvest Pumpkin and Vanilla Cheesecake".
Try scooping out the extra cup of vanilla that Little Helper poured in for you.
Start over.
You will also need to add a tablespoon of cinnamon. If Little Helper is in a generous mood, don't worry. You still have three options:
Rename it "Harvest Pumpkin and Cinnamon Cheesecake".
Try scooping out the extra pile of cinnamon that  Little Helper poured in for you.
Bang your head against the counter and start over.
There is also a tablespoon of ground ginger to add. Sorry about that. Don't worry, you still have three options…again:
Rename it "Harvest Pumpkin and Ginger Cheesecake".
Scoop out as best you can the extra heap of ginger Little Helper added for you.
Bang your head twice on the counter and start over.
I almost hate to mention this, but you'll need to add a teaspoon of ground nutmeg. And a half teaspoon of salt. And a half teaspoon of allspice. Go ahead and bang your head some more if it makes you feel better. The counter can take it.
The Parenting Failsafe Recipe for Pumpkin Pie Cheesecake
Fortunately, there is a parenting failsafe. It is sort of like a "get out of jail free card". Look in the bowl. Observe the quantity of creamy things. Observe the quantity of spicy things.
If the quantity of creamy things is even slightly greater than the quantity of spicy things, keep going and pretend you didn't have any help. Maybe nobody will notice. If the quantity of spicy things is greater than the quantity of creamy things, open another can of pureed pumpkin. Hmm…and another. Keep adding cans of pureed pumpkin until creamy things are greater than spicy things — or until your grocer runs out of cans.
Is this a great pumpkin cheesecake recipe, or what?
Pour the pumpkin filling into the crust. Note, if you had to add too many cans of pureed pumpkin, this could get messy. I recommend hip-waders…especially for Little Helper.
Cook at 350 degrees Fahrenheit for about 50 minutes or until the top is slightly brown and almost as cracked as your head and the counter. Do NOT let Little Helper eat the cake while it is still in the oven. This is considered dangerous by nine out of ten electricians and seven major oven manufacturers.
Let it air cool in a safe place — like at a neighbor's house — then refrigerate overnight
Just before serving, top with whipped cream and sprinkle with pecans. Oops. I just wrote that last line in non-parentease. It should read: "Now that the whipped cream is polished off, shake the remaining candy-sprinkles on the cake." Unless Little Helper ate them, too.
Now you can sit down and enjoy your Harvest Pumpkin Pie Cheesecake (Parenting Version). Or your Harvest Pumpkin and Vanilla Cheesecake. Or whatever you want to call that mess. Oh yes, don't forget to laminate this page to avoid more impromptu experimentation with cayenne pepper in the future.
* NOTE: This article is humorous, but the recipe is real (tried and true and from a few years back, when my kids were younger)…and real good!!!