Feel energized. Enjoy life. Fill yourself with joy!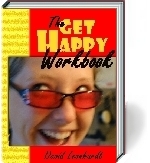 So much more than just another self-help book, The Get Happy Workbook builds a simple and effective personal action plan for happiness based on your individual strengths and weaknesses. Move from understanding to action with this unique, step-by-step customized plan. Make the personal happiness choice today. The Get Happy Workbook will change your life forever. Download your copy here.
"To improve my life, I want to …"
Letter from the author, David Leonhardt

Good Morning Action Figure!
Unless you are lost, you came here as a person of action. You decided that words are not enough to make you happy … that you want a personal action plan for happiness in life, based on your own strengths and weaknesses. The perfect tool to build your individual personal happiness plan is The Get Happy Workbook. It can help you change your life.
But, David, why a "personal happiness" workbook?
Isn't your "maximum happiness" book enough?
Absolutely not. No self-help book alone is ever going to make you happy. It can give you information and motivate you, but in the end you have to make your own personal happiness based on your own needs, your own desires and your own strengths and weaknesses. The book does a lot. It is your blueprint.
Click here to get YOUR blueprint now.
You will be designing your happy life in just two minutes.
But you also need the tools to follow up and build the daily happiness habits the book shares with you. Here is what
Climb your Stairway to Heaven: the 9 habits of maximum happiness
does do:
It educates you about what can make you a happy person, based on the best psychological research available.
It inspires you to see yourself being happier and make the happiness choice.
It gives you a blueprint for happiness in life, including 180 specific ideas for personal growth and self-improvement that you can use in your life today.
It motivates you to take action … assuming you are ready to make that action happen.
It entertains (not a necessity, but a wonderful bonus, wouldn't you agree?)
If you have not yet read Climb your Stairway to Heaven: the 9 Habits of Maximum Happiness,
CLICK HERE
Climb your Stairway to Heaven can tell you what gives "people" happiness in life, but it can't tell you what will make you happy. You are not "people". I am not "people". Most advice and ideas in the book will apply to your life. Most will apply to mine. But not everything.
The Get Happy Workbook helps you separate what applies to you and what does not. It helps you decide where you need to place more emphasis, because your personal strengths and weaknesses are not the same as your neighbor's. It helps you set your own individual priorities. It helps you develop a personal happiness action plan that is true to you..
This self-help workbook also helps you map out your personal action plan for happiness. Even if you and your neighbor had the same strengths and weaknesses, the same priorities and the same personalities, there may be different actions each of you could take to put the same plan in place.
Some actions are more suited to you and some more suited to your neighbor just because one of you is an early riser and the other is not. Or just because one of you has children and the other has none. Or just because one of you works in an office and the other on the road. There is a reason why self-actualization starts with "self" and personal growth starts with "personal".
This Workbook serves one other vital function; it moves you from inspiration and motivation to ACTION! A book conveys ideas. But without action, those ideas are no more than pretty words. To improve your life, you need action. Here is what renowned psychotherapist and syndicated columnist Thom Rutledge says about self-help books:
"Another block to progress in personal growth that can be attributed to our 'psychotherapeutic age' is our tendency to settle for increased insight and understanding of ourselves, but stop short of doing what we need to do to really manifest change."
(from Embracing Fear)
I wanted to do more for you than just write the most energizing self-help book on happiness ever. I want to help you get past the book and move onto action. I want you to self-actualize. I want you to make your life happier today.
Does "happiness in life" sound like too ambitious a goal? Perhaps for some. I know some people reading this will never follow through. Many readers will fall into the self-help trap that Thom Rutledge warns us about and get lost somewhere along the winding path of self-discovery. You don't have to make that mistake. You can make the personal happiness choice today.
Check out the goodies in the Get Happy Workbook
Each of the nine habits of maximum happiness is reviewed — briefly! — as a reminder and for those who haven't read Climb your Stairway to Heaven.
A short happiness quiz follows each explanation. The quiz serves two purposes. First, to get you thinking about how you can apply the nine habits in your daily life. And second, to help you decide where you need to focus your attention. The quiz is a self-help guide to help you set your personal self-improvement priorities.
Finally, there is a menu of actions you can take. That's the key word here: ACTION! It's up to you to decide which actions you can take, which actions you want to take, which actions you need to take – depending on you own strengths and weaknesses. As you tick off the ones you choose,

you build that personal action plan for happiness.
As a BONUS, I squeezed in a few bonus tools at the back — tools you can use to add a little extra joy in your life.
I know you can rise to the occasion, take action, and make your life happier. The Get Happy Workbook will help you find happiness. It guides you through the process to succeed.
"Process" doesn't sound very exciting, does it? Bleah. But let's face it, a well-directed process gets things done. Your life is the most exciting trip you will ever take. Happiness is your traveling companion and your destination. A good self-help book can be your road map, showing you the way. The Get Happy Workbook is your vehicle; let it lead you to your own special happiness and change your life today.
Daytime. Nighttime. Get yours now!
What time is it? Who cares? You can have your copy in less than three minutes.
Order now
to get
the action plan you need to succeed
. The sooner you start the more of your life you will enjoy.
We've priced this workbook at a very reasonable $12.87. This is not some fancy seminar program where you get charged over $135 just to enter the room. We want this to be accessible to everybody. Of course, the information and the motivation tn carries is priceless. This is the tool that will help you redefine your life and build a brand-new happiness. You just can't put a price on that.
Cooking By The Book Get a back-door pass to the secret culinary inspirations of two-dozen authors, as they share with you their favorite recipes.
Taste the world's three best-tasting cheesecakes.
What on earth is "frumenty", anyway?
Watch your tomato sauce dance!.
Ever taste home-made ginger ale?
Find out why the 24th of July tastes soo-ooo good.
There's even an x-rated dessert in here.
Enjoy stunning Mexican dishes, too.
These secret recipes are a gift to you for reading our books. Pick up a copy of The Get Happy Workbook, and start enjoying these bonus taste-bud joy-boosters, too.
Click here for your INSTANT copy.
You get it in your hands as soon as you pay.
No waiting whatsoever!
We accept your credit cards through a totally secure server to ensure your absolute protection. As soon as payment is approved, you will be sent to a special download page. That's it: easy, fast, and don't forget powerful.
And I offer a 30-day %100 money-back guarantee. If you don't find something you can use immediately to improve your chances with the search engines, I will cheerfully return your money. But I know you'll find so much helpful advice that you'll be up for days putting all the juicy ideas to work for you.
I want you to start benefiting immediately, so grab your copy. If you don't have a credit card, you can pay with PayPal:
Or if you prefer to mail a check, make it out to:
"David Leonhardt"
3854 County Road 7, RR2
Chesterville, ON
Canada, K0C 1H0.
Click here for immediate access.
No matter where you are, no matter what time it is! 
You will be downloading and reading the e-book within just a few minutes… and starting to plan your happier life!
I am really excited to help you on your personal journey of discovery. Please share with me your comments about the workbook and how you use it to find your own personal happiness. Until then, enjoy every moment.

David Leonhardt
The Happy Guy
Start building your personal action plan for happiness today.

P.S. Remember the key word is "ACTION." It is very liberating, quite exciting in fact, to discover what makes people tick and what makes you happy. But the only way to get from here to happiness, based on your personal strengths and weaknesses, is to take action. That's how The Get Happy Workbook helps you change your life. Download it now. CLICK here to order.

* A special thanks to Philippe Ramakers for the great "smiling happy person" photograph on the cover of the Get Happy Workbook. Please visit his web site.