Once upon a time, nobody had much flexibility.  But with mobile technology, suddenly our lives have opened up to numerous possibilities.  I used LogMeIn to work remotely for a week, but this is not quite a "review" in the traditional sense.
Last week I was working remotely.  But I was in fact working at home.  How could this be?
Did you see the movie Avatar?  Jake Sully walked among the Na'vi, but his blue body was only an avatar.  His real body was back at the station.
Did you see The Matrix? Neo walked about in what he thought was the real world, but in fact was a simulation of the real world – the Matrix.
As it turns out, my wife had to go out of town on business for a week.  That left me to drive my daughter to school in Ottawa, and back home again after school, since she normally commutes with my wife.  No problem, I can drive her into the city and pull an Avatar.  Technology makes me and my life mobile, flexible.
Me, the Avatar
I spent the week at a library in Ottawa.  That's where my physical body was.  But whatever I typed onto my laptop was being replicated 40 miles away at my main desktop PC.  I had complete control of my PC from a remote location through LogMeIn.com.  And all I needed was WIFI.
Tweet this quote: "Technology makes me and my life mobile, flexible."
Early morning, I did not have access to WIFI.  But I did have access to an Internet-connected computer.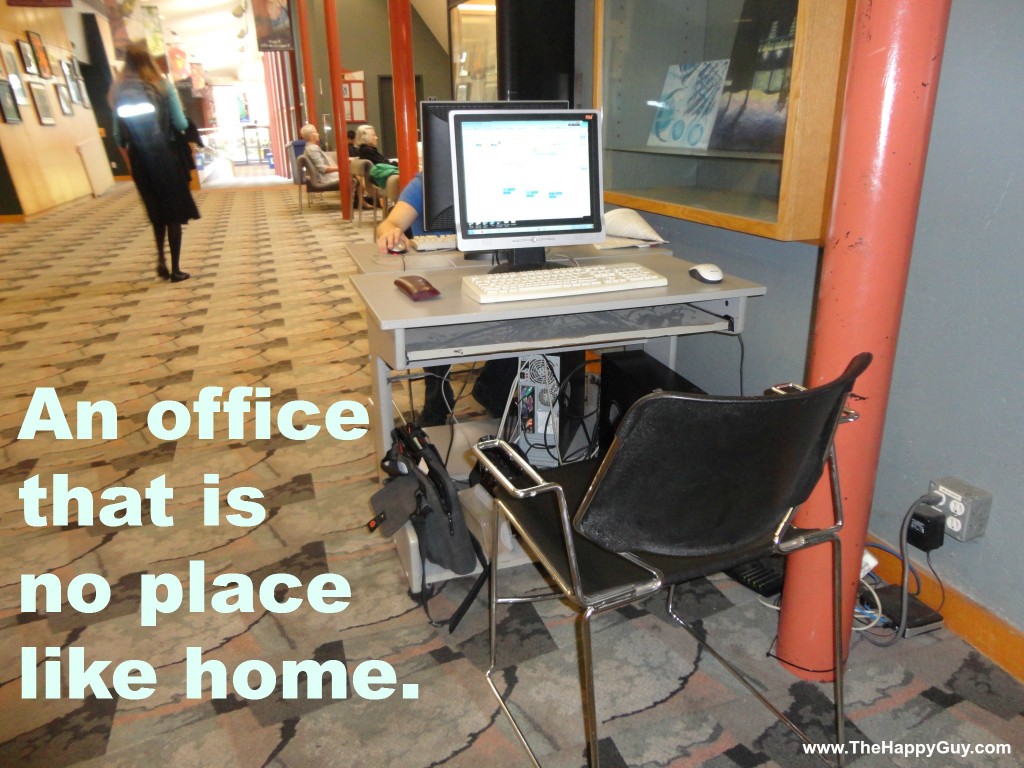 Yes, it does look like a duct-tape office, and yes it was excruciatingly slow, for four reasons:
Old computer, perhaps
Not the highest speed connectivity, I suspect.
I was forced to use Internet Explorer
There is actually some lag time when working remotely.
Fortunately, by mid-morning I was able to enter the library….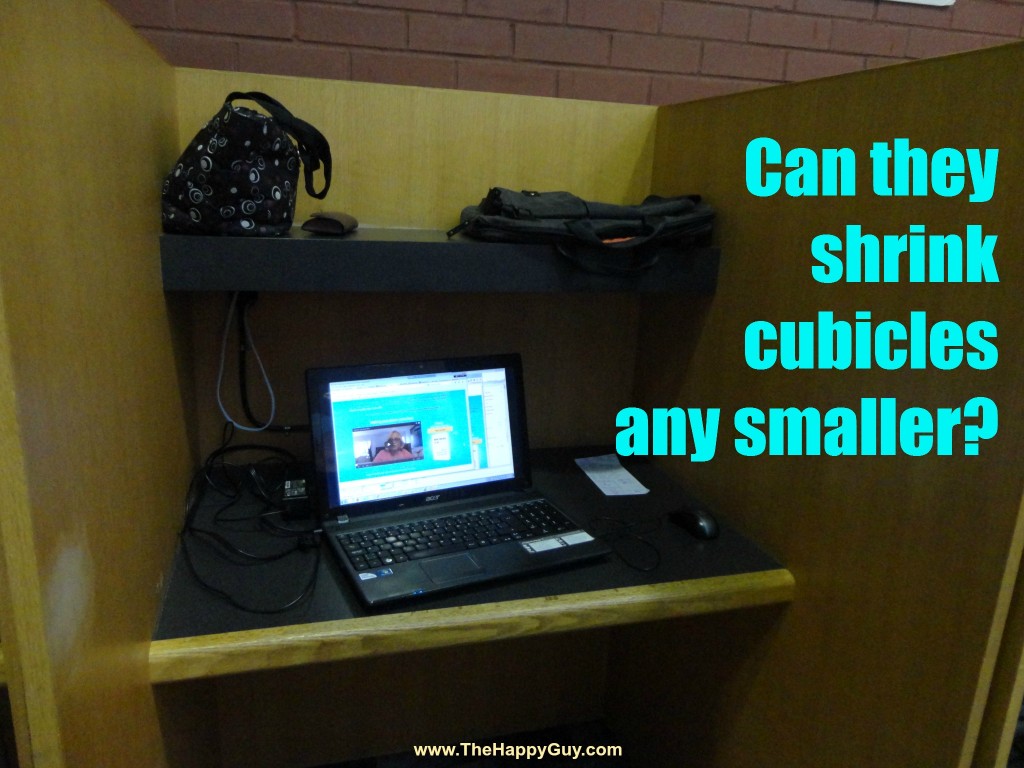 Then I could use:
My own laptop
WIFI.
Firefox
There was still some lag time when working remotely.
Lag time does get frustrating, especially when scrolling.  It's not just the impatience – although there is that – it's also the clicking on something, only to have the page scroll out of under the cursor and you end up clicking on the wrong thing.
Aside from the lag time, there were a couple other inconveniences working remotely.  Because I have a nice sized screen on my desktop, the screen resolution did not render perfectly.  Periods and commas tended to disappear, and the slightly fuzzy text did mean I had to give my eyes more frequent breaks than usual.
One additional inconvenience is that if either computer, my laptop or my desktop, loses Internet connectivity even for a moment, the connection is broken and I need to log in again.  This did happen once or twice each day.  Not a big deal, I suppose.
Big deal! Technology means flexibility
What was a big deal, however, was that my wife was out of town, so my daughter could not commute to her school in the city with her. What was a big deal was that I was able to drive her to the city and still get a reasonably productive work day in.
All in all, I would give my LogMeIn experience B+.  I have no way of measuring it compared to other computer remote control services.  I don't think the issues I have mentioned are within any service to control. So this is not so much a review of LogMeIn, as it is my rating of playing the role of avatar.
Yes, there are some inconveniences.  But when your business is sole proprietorship and there is nobody back at the "office" holding down the fort, it makes life a whole lot more flexible.
And there are worse places to work out of than the public library.