It's easy to get lost on the treadmill of life, but it's worth getting off to start living.
He was on his cell phone. Driving and talking. Talking and driving. Driving and talking. Talking and … CRASH!!!
She was in her hospital bed. Breathing and gasping. Gasping and breathing. Breathing and … you get the idea. Too bad his business had to come before her life.
Is it just me, or does it seem we have lost more than a little perspective?
Have we forgotten what really matters?
We rush through our days trying to "accomplish" things. We stuff so much into our days that they burst at the seams. There is one thing we can't seem to cram into our schedule: quality time.
What is quality time? It's the time when we are not rushed, the time we just appreciate the moment. It's the time we take to go for a walk or to read a good book. It's time to meditate or pray or just breathe. It's the time we spend with our children or our parents … without watching the clock because there are three phone messages to return and the grass needs cutting and there's a pile of work from the office sitting in the basement.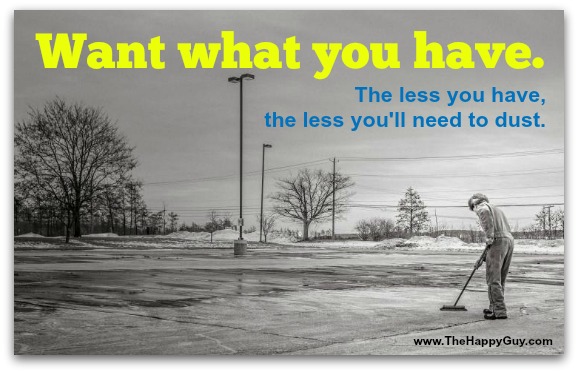 How can we recapture quality time? Here are a few ideas:
Schedule one day a week for quality time, when work and chores do not intrude. Keep your own Sabbath. (Someday, I'll do this one, someday …)
Free your time. Remove the need for so many chores by downsizing your home or the number of items that need dusting. Hire people to clean and take care of your lawn.
Want what you have. The less you have, the less you'll need to dust … and the less time you need to spend earning money to buy stuff, and the less time you need to spend buying stuff, and the less time you have to spend maintaining and protecting stuff (and earning money to pay for maintaining and protecting stuff).
Move out to the country. This won't save you time, but it sure is relaxing to drive up to a house set among the trees in the mountains. Aahhhh. Relaxed, you can now walk in the door and spend quality time with the family. Not more quantity, just more quality.  I moved out to the country.  No mountains, but plenty of trees.
In my book, Climb Your Stairway to Heaven,  I suggest placing your garbage can on your desk and labeling it "IN". Of course, that might not work in every office. But it is a great symbol of saying "No" to everybody else's demands on your time.
Those are just a few suggestions. Not every one is practical for everybody. (Imagine the crowding problems if everybody moved out to the country!) But there is something there that you can do to focus more on what really matters … your own happiness and that of your family.
The time you spend making the extra money required to buy a fancy car is time sunk into a thing. You will never recoup that lost time. But the time spent enjoying your family or even just yourself is time invested in your long-term happiness.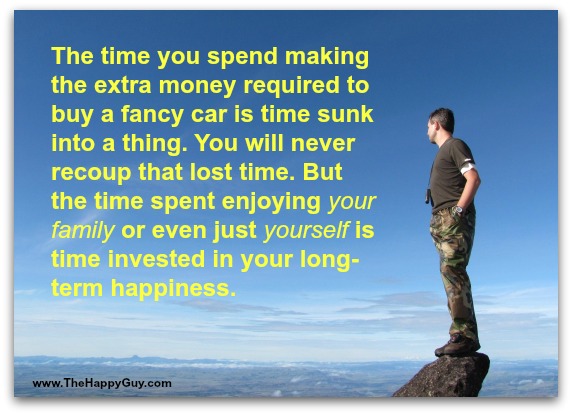 Of course, nothing in life is black and white, and we all need to earn some money and we all enjoy earning some more. Only you can decide just where to draw your line. So here's your challenge: have you done the analysis? Have you drawn your line? Have you decided what really matters to you?