As with so many tourist destinations, Orlando boasts a number of hidden gems often overlooked by visitors. Here are a few of them.
Don't forget to take in some of the secret treasures of central Florida. Orlando is one of the top tourism destinations in the world. It features Walt Disney World, Universal Studios and Sea World. People come from every continent to take in these famous theme parks, and especially to meet Big Mickey. These theme parks have many nearby high end hotels and lower scale motels for the mass amounts of visitors who want to stay next to all the attractions without the hassle of driving.
But there is another Orlando, a city full of unexpected smaller attractions, that you might want to take in when you want something a little different or just a break from the crowds at Disney World.
Kissimmee Rodeo. No, that's not a misprint. The rodeos of the west have come to the south-east – and they are just as much fun. Try this for something different.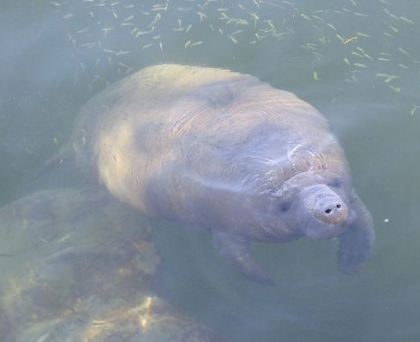 Inland manatees. People often forget that Florida is more than just one big theme park and the host to spring brake excess. It is also home to many natural wonders. Blue Spring State Park is tucked in between Orlando and Daytona Beach. Although it is an inland park, they have 153 manatees this season, more than ever before.
Private Villa Rentals. You don't have to crowd the family into a cheap motel room in the Orlando region. Nowhere in North America are there so many private villas for rent (vacation home rentals). Look also for rental villas in Orlando.
Mystery Dinner. Half way between Orlando and Disney World, it's no mystery why this show packs a full house. This is your chance to participate in a real murder mystery
Farm animal adventure. Every child loves to pet animals. No, it does not replace Walt Disney World, but it might make a nice little break in the middle of the Disney excitement, and it is just a short distance south of the Disney park.
Ahoy there, Captain. Not just the manatees have found their way inland. There are pirates in Orlando, and they offer an interactive family dinner spectacle.
Riverboat Cruise. It's not the Mississippi, but the "Rivership Romance" cruises along the St. Johns River, providing a first-hand connection with Florida's rich, natural heritage. Dining and dancing accompany the natural beauty.
A taste of Chicago. Don't be surprised if you wind up eating with a gangster or two. Or if the police burst in on your dinner to make a bust. This is a living tribute to the legendary Gangland Chicago, and you are invited to participate in the action.
It's a pity that these gems hide in the shadow of Planet Earth's biggest theme park . You won't want to miss Walt Disney World, but take some time out to see what others have missed. Your friends back home will be impressed.