We have come a long way from caveman days. Being civilized means, among other things, having to pronounce words like "self-actualization". Let's look at what this word means…
You might have heard of the term "self-actualization".  This is most often associated with the man who coined the term – Dr. Abraham Maslow.  He postulated that once our physical needs had been fulfilled, our next priority would be self-actualization.
In cave-man days, when it was a struggle just to kill enough mammoths for the BBQ and gather enough berries for the strawberry social, people did not worry too much about psychology and emotions and such.  They had more basic needs.  But now, when even most of the poor in our society has subsistence, self-actualization is a big deal.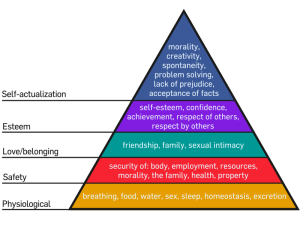 Here is how Dr. Maslow defines "self-actualization".
"A musician must make music, an artist must paint, a poet must write, if he is to be at peace with himself. What a man can be, he must be. This is the need we may call self-actualization … It refers to man's desire for fulfillment, namely to the tendency for him to become actually in what he is potentially: to become everything that one is capable of becoming …"
So in cave-man days, survival itself could be called self-actualization.  But Dr. Maslow was not the one to invent the concept of self-actualization.
The Biblical Definition of self-actualization
Here is the definition of "self-actualization" in the Bible, Ecclesiastes 3:1-8 .
For everything there is a season,
And a time for every matter under heaven:
A time to be born, and a time to die;
A time to plant, and a time to pluck up what is planted;
A time to kill, and a time to heal;
A time to break down, and a time to build up;
A time to weep, and a time to laugh;
A time to mourn, and a time to dance;
A time to throw away stones, and a time to gather stones together;
A time to embrace, And a time to refrain from embracing;
A time to seek, and a time to lose;
A time to keep, and a time to throw away;
A time to tear, and a time to sew;
A time to keep silence, and a time to speak;
A time to love, and a time to hate,
A time for war, and a time for peace.
What we can do, we must do to be all we can be.  Each thing in its time.  As we move into a period of history where more people in the world have the chance to pursue non-necessary interests, we might very well call this the century of self-actualization.