Inexpensive and versatile, protein powder is a great way to top up the protein you might be missing from your diet without breaking your budget. It goes into almost any liquid or semi-liquid food, including the creamy pumpkin soup recipe in this article.
I wrote earlier about the price of various sources of protein.  One of the more reasonably priced sources is protein powder, usually from whey. They are most often used to make shakes and smoothies after a workout.
But protein powder has so many other overlooked, but handy, uses.  In fact, it might just be the flexibility of the product that makes it more attractive than the price.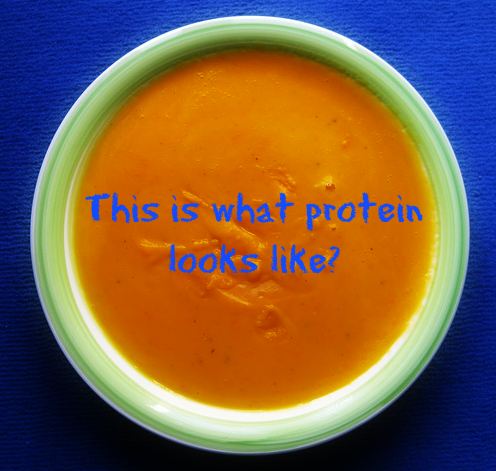 Suppose you want a complete meal, but you don't want to cook up meat.  So you make a salad and grab a yogurt and…that's not a full meal.  Yogurt has very little protein.  Even the best Greek style yogurts don't have enough for a complete meal (unless you eat a lot of yogurt, I suppose).  No problem, just toss a bit of powder into your yogurt.
Soup and salad for lunch?  Just add protein powder – preferably to the soup, not to the salad.  In fact, there is a creamy pumpkin soup that I love that makes a complete meal when you add a bit of protein powder.  The picture is to the right. The recipe is below.  The evidence is currently in my stomach.
A fully cooked meal, but you don't feel like meat?  Mashed potatoes with protein powder.
Vegetarian lasagna or spaghetti or Fettuccine Alfredo…just add protein to the sauce.
Oatmeal for breakfast?  Pancakes for supper?  (Yes, if you add the magic powder, there is no reason they can't make a very good supper.)
In fact, can't get your kids to eat their meat? Add protein powder to your cake recipe.
Tweet this quote: "Can't get your kids to eat their meat? Let them eat cake!"
In fact, you can add whey powder to pretty much any sauce or cream or to anything you bake – cookies, cakes, muffins, pies…even meatloaf (but that would be kind of pointless, right?)

Protein Power Pumpkin Soup

Here is the pumpkin soup recipe…Pre-cook one medium-sized pumpkin or three average sized butternut squashes, and discard the seeds (you can roast them later for tasty snacks).  You can just put the pumpkin or squash about 20 minutes in the microwave; they don't need to be fully cooked, just soft enough to scoop out of their skin and into a very large pot.
While the pumpkin or squash is pre-cooking, peel seven apples and three onions and cut into pieces, discarding the apple cores, of course.  Toss into the pot with a cup or two of water and start cooking.
Grate about two inches of fresh ginger root into the pot.  Powdered ginger will not be the same – the soup will taste VERY different.  The best way to grate the ginger root is to keep it in the freezer and remove it only when you are ready to grate.  You want the ginger root to be frozen hard for grating. Yes, your hands will freeze before you get it all grated, so wear gloves if you insist on being a wuss (like me).

Add a touch of powdered nutmeg.
Add a touch of powdered pepper – this tastes better if you grind it fresh, too.
Add a touch of salt.
All these touches really depend on your personal taste.  Best to start off with very little and experiment in your bowl later on.
Add the pumpkin or squash and keep cooking until everything is nice and soft – pumpkin, apples and onions.  Add water as needed, and be careful not to burn the bottom of the soup.

While the soup is cooking, grate some cheese. This cheese will be for sprinkling on your soup when it is on the table to serve.  Some people prefer just a very gentle sprinkling.  Other people, like me, want lots and lots of cheese. I like cheddar best for this purpose (I am not that big a cheddar fan, but this combination just seems to work well), but mozzarella is good, too, and most hard cheeses should do nicely.  Put the cheese aside.
When everything in the pot is soft and cooked, you can cream it in the blender.  You will probably have to divide it into about five or six batches for this.  But first, add the protein powder.  How much protein powder depends on how much cheese you will eat in the soup.
If you are like me, you really need very little protein powder to make this soup a complete meal.  But if the cheese is just a garnish for you, then I suggest putting enough protein for however many meals you plan to make out of it.

This pumpkin soup recipe is just one thing you can do with protein powder. It is a very healthy meal, because pumpkins are loaded with vitamins and who do you know who gets enough fresh ginger in their diet? But the protein powder is an ideal way to add convenience and control costs almost any time with almost any food.