You have probably heard over and over that duct tape is the magic solution for all problems. It might even prevent World War III. Here is one fine example of how it can save a parent some money.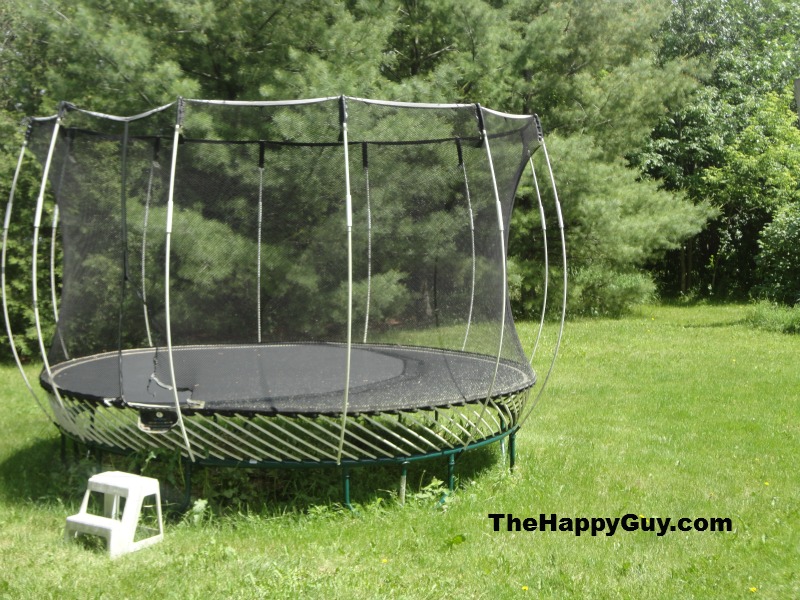 Five years ago, I bought my girls a Springfree® trampoline.  What is awesome about these, pretty much as the name implies, is that there is no spring on which to catch one's foot.  In fact the whole thing is pretty sleek.  Despite the seemingly hefty $900 price (I see they cost a bit more now), this is the best recreational investment I have made for the kids, for several reasons:
After five years, the cost is already down below $200 per year.
I set it up in early May and take it down in early November, so it lasts much longer than a swimming pool (here in Canada).
The girls use it almost every day that is not rainy when we are around the house, sometimes for as much as an hour a day between them.
The girls sometimes stay much longer than an hour on it together – not just jumping, but hanging out (which saved me the time, energy, money and swollen thumbs of building a tree house).
Sometimes they use the trampoline to practice dance moves they cannot yet do on the living room carpet, so it does improve their dancing.
When they have friends over, it is a natural attraction.
It's an activity I can do with my girls, and I often do.
I occasionally use it myself, by myself, just to get my blood flowing in the middle of the day (not often enough, I must confess).
So what does this have to do with duct tape?
Cracks in the Springfree rods
Look carefully at the trampoline.  You see how the net is kept up by curved white poles?  And the trampoline mat is also kept up by curved white poles?  98 of them, in fact.
Well, those poles are not actually curved.  They are straight.  But they are in a state of flex, so they curve, which means they are under a lot of pressure.  Tension.
This spring, as I was taking the trampoline out of hibernation, I discovered cracks in a couple of the poles holding up the net. What was amazing was that these rods, under great pressure and with a crack in their outside curves, were not snapping. Nevertheless, I was worried. So I called Springfree for advice.
They told me (as I had guessed) that the plastic is just a sleeve. Inside was a fiberglass rod that did the actual work. The plastic sleeve's sole role is to protect the fiberglass from the deteriorating effects of solar radiation.
The problem is that the plastic sleeves themselves will crack as a result of solar radiation.
Their suggestion was to buy new sleeves, for a price of $60. That was for the whole packet; you can't buy them one by one. If I just let it sit, sooner or later the fiberglass rods inside would deteriorate – and that would be much more expensive to replace.
Then I noticed that it was not just the upright rods holding up the net that were cracked…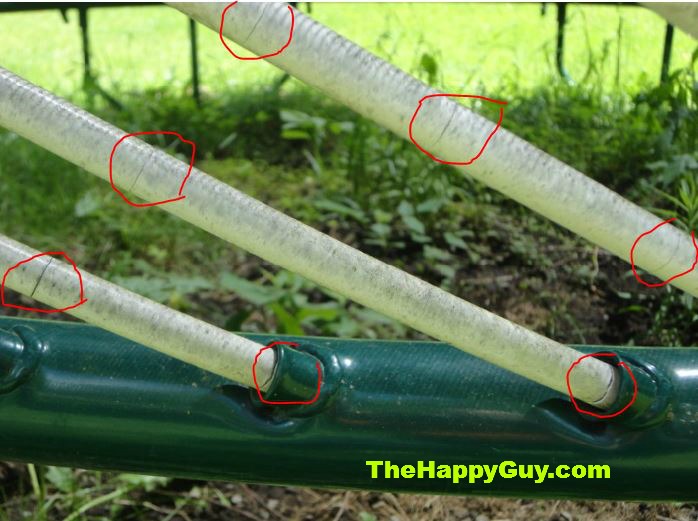 This was a little unsettling, since these are the supports for the mat we jump on. And almost every one was cracked. In multiple places. Yikes!
But remembering that it is the plastic sleeves that are cracked, not the load-bearing fiberglass rods, I set to work with my duct tape.
I have no idea if the $60 would cover both the upper rod sleeves and the lower ones, but I suspect that the replacement cost for all of them would have been more in the $150 range. Never mind, duct tape is cheaper either way, and it does the job.
Duct tape covers the cracks, so that no sunlight can sneak in and harm the load-bearing fiberglass rods.
Duct tape holds together the plastic, so that small cracks don't become larger.
Duct tape covers the area between cracks where new cracks are most likely to appear.
I used about half a roll in total and spent about an hour applying it.  Better even than saving the money, is the time I saved.  It took me about an hour to set up the trampoline five years ago.  This time it would take me about that amount of time to disassemble it, and again that amount of time to reassemble it.  So two hours plus an unestimatable amount of time and possible damage and/or pain of changing each sleeve.  But duct tape helped me avoid that for now…and maybe for another five years.
The result?  Ta da!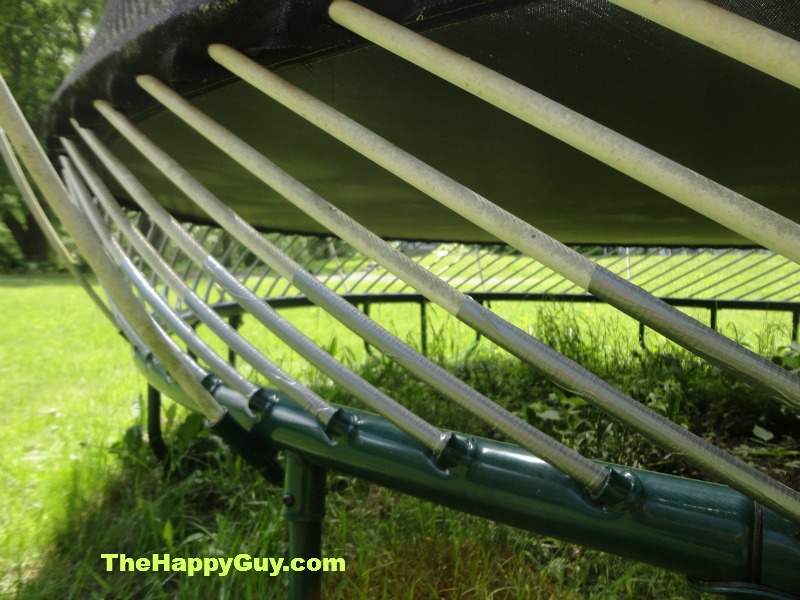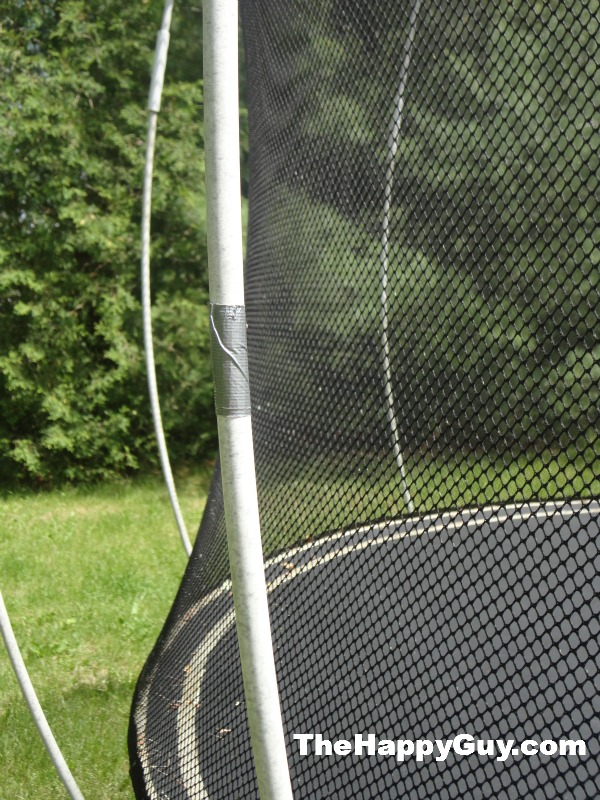 Pretty stylish, right?