Have you ever thought of selling clothes online.  Whether it's your own used clothes (and those of friends and relatives) or designer items that your niece has created, you need a plan!
Even if you plan to sell only your own used clothing online, there are some essentials that must be met to give yourself the best possible chance of success.
One or two missed items can mean the difference between making enough from your online store to be worthwhile and struggling to make ends meet.  So it pays to get it right from the start.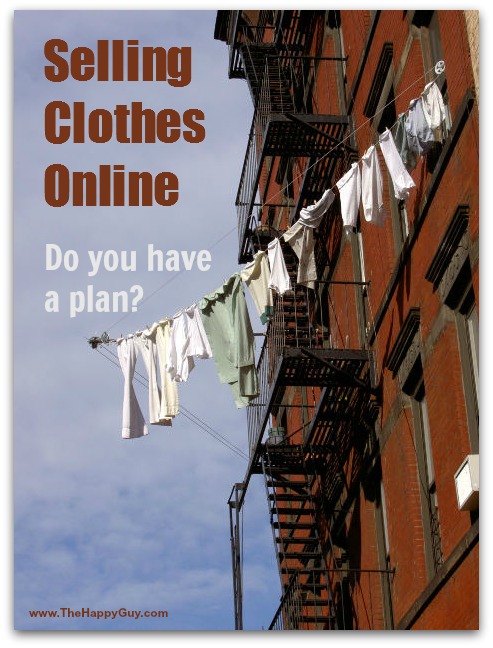 Think Big, but Start Small
We have all had dreams of running a big operation with lots of inventory.  However, the truth is that selling clothes online is best started on a small scale.
No, it is not outlandish to start selling your own used clothing or start with a small local manufacturer. This will greatly lessen the chances of financial loss.
Starting small allows for greater focus on certain areas of the business that may need extra attention at first, such as building customer relationships.
Have a Plan
A business plan, that is. A business plan is a necessary evil – sorry. Although it may seem like a huge task at first, but writing a plan costs you nothing but your time. You end up with a much clearer view of where your business is headed. As well, every successful business has a business plan, and writing one isn't as difficult as you may think. There are hundreds of online resources to help you craft that perfect plan.
Product Suggestions
You may have seen the option to look at items similar to what you were considering while you were on your own online shopping trip.  This feature makes the entire shopping experience more convenient for your customers.  It increases your own credibility if you choose to suggest items that your customers can find elsewhere.  And it increases your sales if you can prompt them to buy something extra from your store.  Amazon.com does this, as do most major online retailers. Facebook recommends people you might also know.  It can be a very effective strategy.
READ ALSO: How to save money on laundry
Stay In Touch With Customers
One way to ensure that your customers always have your clothing store at the front of their minds is to ensure that your web site always has new content that's fresh and engaging. One way to do this is to incorporate a blog. You can post to your blog whenever you like, but the more often you post, the more valuable content there will be for your visitors to read.
Many who are wondering how to start an online clothing store wonder whether or not it makes sense to have a Facebook page. In most cases, this is a good idea.  After all, Facebook is where the largest number of consumers gather.  But you might also consider Twitter and Google Plus as alternatives or additions for keeping in touch with your market. Having a Facebook page is a way for customers to instantly interact with you. You can post interesting things you find on the web about fashion for your customers to read, and even highlight certain pages of your site when you want them to see a special offer you have on for a limited time.  Same goes for Twitter and Google Plus.  Pinterest might be even better, especially if you are targeting a female demographic.
Inventory Control
The whole idea behind online shopping is convenience. So why complicate things with too many trends at once? Try and narrow the items you are selling to as few niches and trends as possible. Keep track of the items you have sold, along with those you have not (what remains "in stock"). This will give you a good idea of what your customers want to buy from you, and ensure that you don't re-stock previously-unsuccessful items.
Website Matters
No matter how many pages your online clothing store site needs, you cannot put a price on the value of having a reliable host. Without reliability, your visitors will not be able to reach your store when they want. Whose fault this is doesn't matter; your customers may soon begin to see you as unreliable – and you don't really want to make your competitors that happy, do you? Read online reviews to choose a reliable web host.
Store owners take advantage of the plethora of talent out there by hiring a professional web site designer. Despite the many free resources which exist to allow would-be web site owners to create their own sites, it may be much more beneficial to have a web site design that's completely unique. This will allow for branding to take hold in the customer's mind.  And make sure you have a way for customers to pay you easily; people don't buy if it's hard to pay.
Make sure you include prominent social buttons on your website.  You might share pages to Facebook and twitter, but consider how much more powerful it is when your customers share those same pages with their friends.
You don't have to hang you laundry out online to make some nice change selling clothes.  Whether for some extra pocket money or to start a new career, it is simple to sell clothes online  Simple, yes, but make sure to do it right.