Can you save money on car insurance? Of course you can. Here are 18 frugal, money-saving tips.
One of the biggest expenses any home owner faces is home insurance.  And it comes around every year or every month, depending on how you have it set up. 
But there are ways you can save on home insurance.  Here are 15 tips for frugal home insurance.
Shop around
As with any product or service, the most important way to know if you are getting a good deal is to shop around.  This is important both to compare prices, since you generally want the lowest price, and to compare quality and service, since you want the lowest price that does not compromise the level of service or the quality that you want.
In the case of home owners insurance, the most basic quality question is whether they will pay.  The second question is whether they will give you a big hassle before paying, which could increase your medical bills and create divorce attorney costs. A third question is just general customer service, how friendly they are, how easy it is to reach them, etc.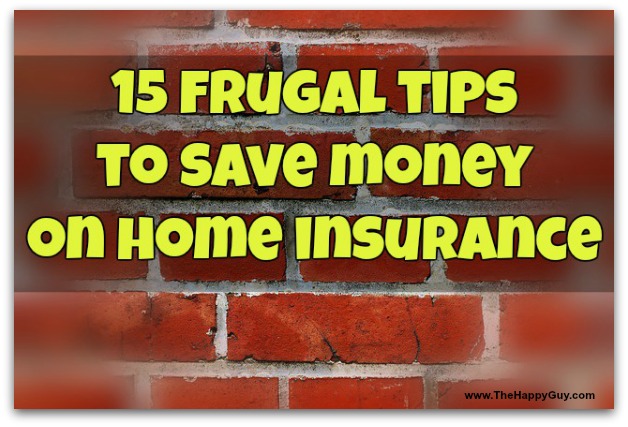 In business, we usually go by the guideline to always get three quotes before outsourcing anything, such as printing or translation.  But insurance is more complicated and it is a bigger deal to you financially, so five quotes would be a good guideline.
These days, it has become easier than ever to get insurance quotes online.  Our parents did not have that option.
Increase your deductible
The easiest and most effective way to reduce your insurance costs is to increase your deductible.  The deductible is the amount you pay when you make a claim, no matter what.  For instance, if your deductible is $500, you will always pay that amount on a claim.  If fire burns your house to the ground, the insurance company will pay to rebuild it, all except the first $500.  If a piano falls from a plane and damages your porch roofing, the insurance company will pay to repair it, all except the first $500.
The point of insurance is to protect you when expenses suddenly get beyond what you can reasonably be able to afford. If you suddenly have to replace a door, because a motorcycle shot through it, you don't need insurance for that. If you suddenly have to repair the entire corner of your house and replace your living room furniture because a semi drove into it, that's when insurance is needed.
We have a $1000 deductible. You'll have to shop around, but the difference between a $500 deductible and a $1000 deductible will probably be several hundred dollars per year. And if you ever make a claim, it will cost you only $500 more.
Erik Folgate recommends building up an emergency fund instead. So does Trent Hamm:
The solution is simple: if you have a well-funded emergency fund in a savings account somewhere, you can raise your deductibles some without worry. A well-funded emergency fund means a minimum of a couple months' worth of living expenses, plus more if you have dependents. If you have that kind of cash that can be accessed with ease, then by all means, raise your deductibles.
And he makes a convincing mathematical case why this saves money in the long run.
Remove unnecessary coverage
Just as with the deductible, it helps to remember why you have insurance.  You don't pay premiums every month or every quarter so as to be able to replace every little item that gets damaged.  Insurance is meant to pay for catastrophic loss from which you would be unable to financially recover. Remove anything small that can be removed, and that might even include goods and chattels if you can afford to replace them in the event of catastrophe.
Remember that the way insurance companies make their money is by charging more for premiums than they pay out in claims.  On average, your premiums will cost you more than you will get back.  So if you are capable to pay for replacing your furniture, on average people will save money by not insuring it.
Don't add on any gimmicky insurances
This goes hand-in-hand with removing unnecessary coverage.  If you are asked to approve any add-ons, chances are you don't need them.  Add-ons will be an extra cost and unlikely to count as catastrophic loss from which you would be unable to financially recover.
Insure the home and contents, not the land
I have not run into this option, but I know that several personal finance bloggers recommend insuring just the value of your home, the building, and not the land. In the words of Erin Huffsteller:
Homes can be damaged in fires, floods, and other mishaps, but there's not much that can go wrong with land. Purchase enough insurance to cover the value of your home, and let the land take care of itself.
Combine with auto insurance and business insurance
Another very popular way to reduce insurance costs is to combine home and auto insurance, and perhaps some other insurances, such as business and liability, under one umbrella.  Insurance companies really encourage this approach, as any insurance agent will tell you.  The reasons are clear:
They get more business from you when they get all your insurances.  So it is a powerful business growth incentive that is cheaper than marketing.
They have less costs billing one customer for two insurances than billing two customers.
You are less likely to switch insurance companies, if it means switching all your insurances.
So they get less costs, more revenue and a more stable customer base to bank on.  In return, you pay less.
Loyalty pays
Speaking of customer loyalty, it proved profitable for us.  I already told you that we have a $1000 deductible on our home insurance.  A couple years ago I wrote about what happened when Big Foot crushed our air conditioning unit.  Because we had been loyal customers for over a decade, they waived the deductible.  That's like writing us a check for an extra $1000!
If you did a good job of shopping around, the pay-off is that you can rest easy, not have to switch insurance companies and it pays in the end.
Don't make the claim
Just because something gets damaged doesn't mean you have to file a claim.  Small damages are best to just pay yourself, because if you make frequent claims, your premiums will go up.  In the long run, you will pay more for the increased premiums than to just make the repairs yourself.
Remember that insurance is there for catastrophic loss from which you would be unable to financially recover. And if you have $1000 deductible, you might as well make small repairs yourself, since you'll be paying the first $1000 anyway.
Interestingly, part of the reason the insurance company waived our deductible in the story above is because we have not made any claims in the past decade. We were:
Loyal customers
Low maintenance
Insurance companies like that.
Make electronic payments
Some insurance companies will charge slightly less for paying electronically, as opposed to by paper.  This saves them material costs and probably some processing time (less person-hours to pay). It never hurts to ask.
Pay annually
Some insurance companies will charge slightly less for paying annually, as opposed to monthly.  This saves them processing time (person-hours). It never hurts to ask.
Refer friends and family
Some insurance companies will pay you to make a referral.  It might be a one-time fee, or it might even be an ongoing discount.
There is psychology behind this.  If you recommend a friend, you have a vested interest.  In your mind, your reputation is tied in with the company, and therefore you become a more loyal customer who is less likely to jump to another insurer. Offering you a discount is sometimes worthwhile for them.
Once again, it never hurts to ask.
Ask for discounts
Discounts are sometimes available.  Seniors discounts are typical, but there may be others.  Insurance agents and companies won't just tell you.  Ask about seniors discounts if you qualify.  Otherwise, be very direct.  "What discounts can I qualify for?"
File this one under "It pays to ask".
Add security
Since a lot of claims are for burglary, home alarm systems and even deadbolts on the doors – yes, deadbolts that cost almost nothing! – can lower your premiums.  Get those systems that make sense to you, but you might also ask your insurance company what security measures will lower your premiums before deciding on exactly what security measures to take.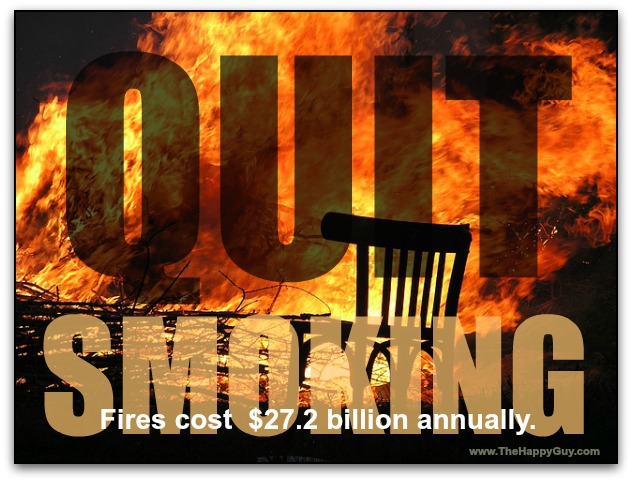 Add fire alarms
You should already have these.  In fact, it is probably illegal for you not to.  Since a lot of claims are for fire, this is important.  In fact, some insurers might refuse you altogether if you don't have them.
Quit smoking
Did you know that the leading cause of home fires is smoking? Most insurance companies will reduce your premiums if nobody in the house smokes.  Make sure to ask about this, too.
Upgrades, such as oil tanks
Our insurance company won't insure us with heating oil tanks more than 12 years old.  Others might, but will reduce your premiums when you upgrade.  It is worth your effort to find out.
There might be other ways to reduce your home insurance costs, including moving into a smaller home or an apartment, but these are the main ones you are likely to consider in the near term.  It just goes to show that a frugal person can save quite a bit even on something that might seem as carved in stone as home insurance.