Yummy Young rice tea by Karma Kisses got three thumbs up from our review panel, but they were unable to agree on what that intoxicating aroma was.
It came via courier, a plain brown paper wrapped around with packing slip paperwork. Inside was a box, and inside was a fancier box. Not garish, but nice and classy. You can see the presentation in the photos below.  When the review panel opened the inner box, they pulled out an envelope of Yummy Young rice tea from Karma Kisses Tea house.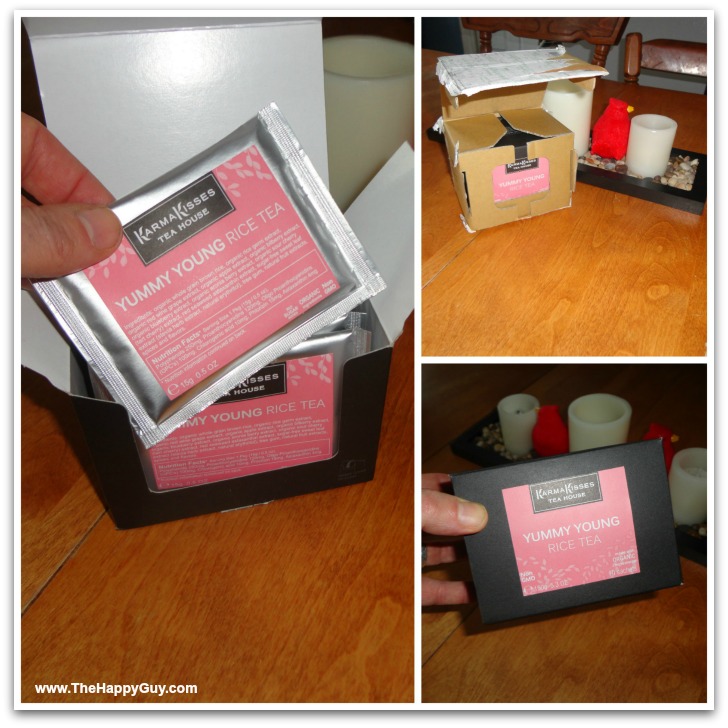 It would be fair at this juncture to disclose that A) Karma Kisses is a writing client of mine, and if this product sucked I would not be publishing a review, and B) the sample was provided free by Karma Kisses, but no other compensation was extended to me to do this review.
The review panel consisted of:
Mrs. Happy Guy
My mother-in-law
Barb, a family friend
I was not part of the review panel; my job was to turn on and off the video recorder. The reason there is no video in this post is because of how well I did my job.  Sigh.
The Yummy Young review
The review panel cut open an envelope of Yummy Young and immediately the room filled with a rich, exotic aroma. Thus begun a  discussion that would prove to be inconclusive, as to whether we were smelling Indian, Vietnamese or some other oriental scents.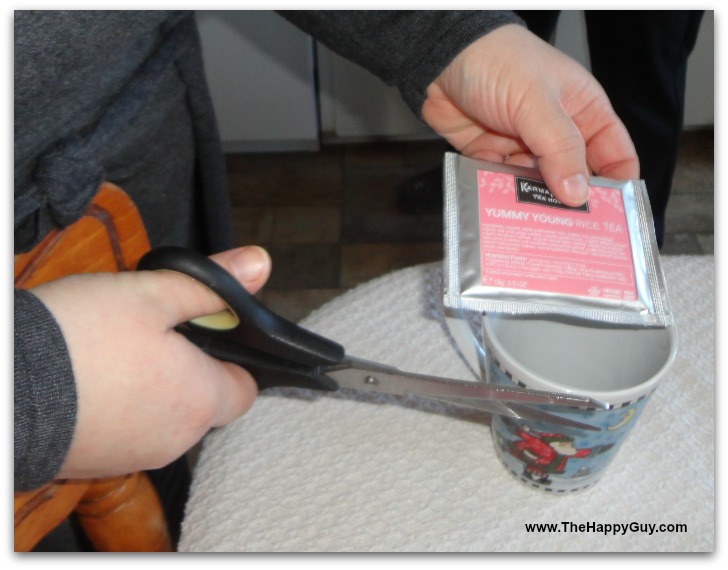 The review panel was impressed by the ingredients (listed below). Barb is well-versed in organic and non-GMO products and gave her stamp of approval.
The water having come to a boil, it was ceremoniously poured over the tea; each panelist drew in the aroma, then tasted.
If I had done my video recording job properly, this is where you would be hearing a lot of "Ooh" and "Ah" and "That's really nice" and "It's sweet". In fact, there was a lot of discussion over how pleasantly sweet the beverage is. Barb explained that several of the ingredients  probably lend sweetness, in particular the brown rice (compared to green tea or British style tea, for instance).
The only negative comment at all was on the presence of Stevia – a healthy, natural sweetener – because Barb was able to taste the Stevia, a flavour of which she is not particularly fond. Nevertheless, it did not impede her enjoyment of the tea and plenty of positive comments and compliments.
Overall, the ladies of the review panel gave three thumbs up and still could not agree on what country's aroma they were enjoying.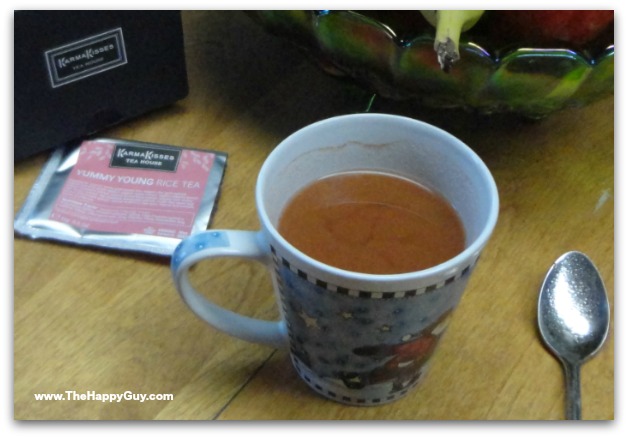 Yummy Young rice tea ingredients
organic whole grain brown rice
organic rice germ extract
organic red wine grape extract
organic apple extract
organic bilberry extract
organic aronia berry (chokeberry) extract
organic blueberry extract, organic sour cherry (tart cherry) extract
red seaweed astaxanthin extract
sugar-free sweet leaf extract (stevia herb extract, natural erythritol)
tree gum
natural fruit extracts
spices and flavors