Frugal is fine, but the best way to save money is to earn more…and that takes training. When you work for a company, corporation or the government, they train you. But if you're a solopreneur, you're on your own.  Even if you already know what specific skills you need, how do you know whose information and training to trust?
Leading Marketing Training Programs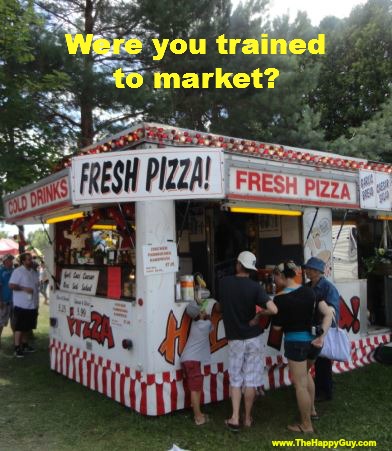 If you are a solopreneur, you are your own marketing department.  So where do you get your training? Three top marketing resources immediately come to mind: HubSpot, MarketMotive and MECLABS (which includes MarketingSherpa and MarketingExperiments). These are all excellent sources because what they teach is based on actual results at real businesses. Here's how MECLABS describes what they do:
"MECLABS is the world's largest independent research lab focused exclusively on marketing and sales. Our scientists and analysts have conducted rigorous scientific tests across more than 10,000 pages."
Results are what matters – and these all share specifically what gets results. MECLABS offers online digital marketing courses. MarketingSherpa publishes "Practical Case Studies, Research and Training for Marketers" while MarketingExperiments focuses on discovering "what really works in optimization" and offers both self-guided learning and formal training (live or online).
MarketMotive provides extensive training on skills with growing demand and few to meet them.  They provide online internet marketing online certification courses.  Analytics, Conversion Optimization and Mobile Marketing are the specialties that are most needed today.
HubSpot is best known for their inbound marketing software platform.  Their advanced lead generation system is used in-house at businesses of all sizes to increase ROI. They publish extensive marketing case studies. Experts in inbound marketing, they publish separate Case Studies by business size: Small Business, Mid-Market and Enterprise. They have "proven success with over 10,000 companies across a variety of industries".
They teach marketing skills as well as how to close more leads through the HubSpot Academy. Look for their Inbound Learning Webinars and Inbound Conference. HubSpot certified professionals are in high demand and can be found on their site.
Basic Marketing Training
All of the above are the highest quality, most in-depth training you can  find. Some people might find them too advanced, though. Before you jump in the deep end you need some basic marketing skills. One unique way to get them is also a way to make money. If you join Empower Network you are paying for internet marketing training.
It is important to note that you do not have to buy every level. You can get the viral blogging system for $25 and the Inner Circle Audio training for $100. Note that these are recurring per month – but you could access them all the first month and then cancel once you get the basics if you don't feel they are of continued benefit.
The first question I asked Brad Campbell when he told me his income was over $35,000 a month – and most of it was from Empower Network – was whether he learned what he was doing from their training.  He told me that he was making more money from ALL of his marketing ventures because of what he had learned in that training. (But do note that he got ALL their training including the advanced levels.)
What is unusual about this training is that you can become an affiliate and sell it, but is is structured like an MLM (multi-level marketing).  I am no fan of MLMs generally because 99% of the people that get involved in them lose money. But at $35,000 a month, Brad isn't even in the top 50 earners, so clearly this one does pay IF you are willing to really do the work.
That is the key question about any kind of marketing training. Are you willing to learn and then actually apply what you learned? If making a lot of money – or at least making your business successful – would make you happy, I encourage you to check out these resources. Remember that you can also use the skills learned to offer your services or qualify for a position at a company. All of them have a ton of information online so even if you never spend a penny with them you will learn from the best.
A career as a solopreneur?  Not completely "solo".