There might not be such thing as absolute safety, but our society isn't constantly living in terror of the next attack. This we will (hopefully) never fully understand. Let us be grateful for that.
In a recent Daily Dose of Happiness I wrote:
SAFETY Having just read an article in Maclean's called "Butchers and Monsters", about how the Chinese government bullies the people in the territory it controls, I am reminded of how lucky I am to live where and when I do. I know most of our readers share that luck, but not all.It's not just that this is a safe place, but also it is a safe time. Most people throughout history have had to live in the shadows of a bully ruler who could pretty much do whatever he chose with peasants in territory he controlled.  Most people throughout history have had to live in fear that a village or kingdom or principality nearby or farther away would invade, loot or otherwise destroy their village.Those of us with the good fortune to be living in times of peace in the land of people will never be able to truly understand how it is to live looking over your shoulder.  But let us be grateful that we will never truly understand.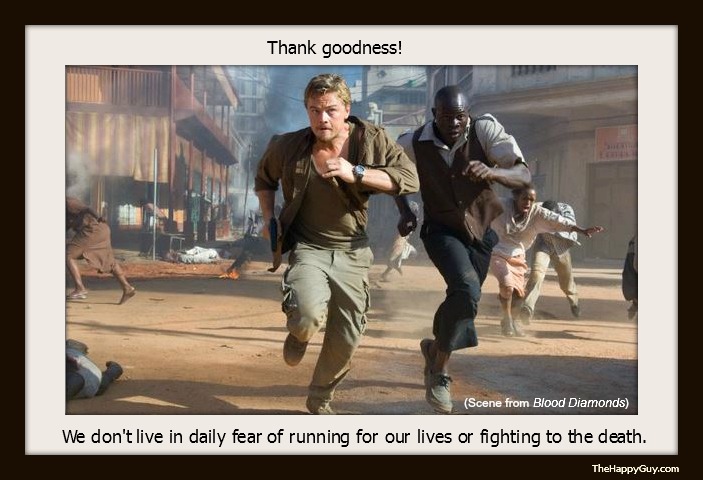 This edition drew a number of interesting comments.  Some were political, such as whether Western media is reporting China with bias and opinions on illegal immigration, which are interesting topics but beside the point.  Others addressed the heart of the topic, essentially questioning the notion that we live in relatively fear-free times/place.  I would like to share a couple of them with you here.
You forget about those who live with sick and mean people. I look over my shoulder 24/7 where I live, for fear of being yelled at, evicted for the flip of a hat reason, chased down hallways… I'm 24 and going to school to better myself so I can leave. Sure, we live in a free country but not all of us live in a free home.
To which I replied…
That is true.  There is no escaping the various characteristics of individuals.  Still, consider that you can go to school.  In Afghanistan, women are still trying to get that simple right, and facing incalculable risks as a result, in many cases from within their own home, but also from death squads roaming the countryside hunting down women who dare to pose as humans.
Which resulted in…
Wow, well I guess you make a good point.. I have read about those women, and my heart breaks at the injustice of it. I do have a crappy home life, but it is true that I am not being killed for trying to better my situation — just put through the ringer in the process, is all. Thank you for the perspective.
Another response from a reader was this one.
Hello "The Happy Guy"I'm responding to your email because I really don't believe in what you said below – that we here in Canada are all safe.  I think we tend to take that for granted.  I used to think that before 9/11 happened. The people who lost their lives during the 9/11 crisis thought they were safe too.  With our biggest ally at war right now, we never know who El-Qaida (sorry, I don't know how to spell it) will hit next and how many people will die.

Yes, I agree that we are way better off than Chinese citizens and many other parts of the world, but are we truly safe?  Think about it.
To which I replied…
There is no such thing as complete safety.  A comet could enter our atmosphere tomorrow and wipe out all life on earth.  The shock over 9/11 is testament to how safe we are, how we can sit back and relax and enjoy life without constant fear.  When something like this does happen, it's such an aberration that, in addition to the sadness at the loss of life, there is a total shock that it could even happen here.  We really are blessed to be able to live day to day without much fear of being butchered, raped and pillaged, and that we can say pretty much whatever we wish and choose to do pretty much whatever we wish without being brutally assaulted by soldiers or guards for so-doing.
I hope this gives people some additional food for thought, as I believe appreciation is paramount for happiness.