What if the healthiest treat imaginable was also the tastiest? Here is how to turn pure fruit – nothing but pure fruit – into scrumptious ice cream.
Close your eyes. Imagine sucking gently on your favorite flavor of gelato, slowly letting it melt and trickle down your throat.  Feel the cool sensation.  Taste the delicate flavors.
Gelato is
how Europeans eat their ice cream
, and is easily one of the most delicious treats.
Now close your eyes again.  Imagine you could have all this taste, all this sensation, all this smoothness without any fat and without extra sugar or any chemicals added.  That's what Yonanas is.  The ultimate healthy frozen treat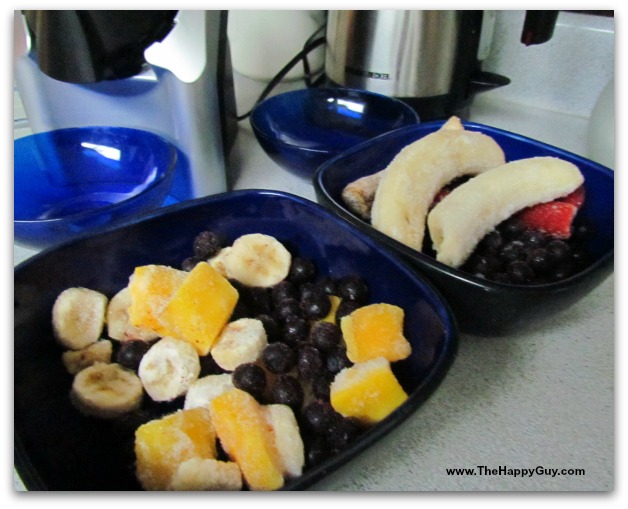 TRUE STORY: My younger daughter is ten years old, and still very difficult when it comes to fruits and vegetables.  Sometimes we even get mini tantrums from her over having to eat fruit.  My wife convinced her to buy me a Yonanas machine for Christmas.  She was, of course, eager to try it out with me.  And when we did…
"Can I have more?"
My Yonanas Review
This was pretty exciting.  But what exactly is Yonanas?  The best way to describe its composition would be "pure frozen fruit purée". The photo above includes the ingredients for three servings (each bowl for one of my daughters, and I had a hybrid of the two).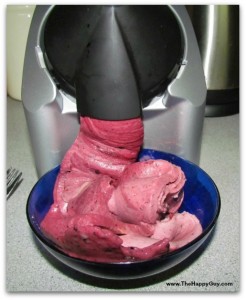 The best way to describe the taste is "gelato".  Oh, yeah!
The Yonanas machine is actually a specialized blender of sorts that works best with frozen fruits that have been thawing for about 15 minutes.  All the recipes that come with the machine are pure fruit.  And all include bananas.
There are plenty of recipes listed at http://yonanas.com/recipes/ and I notice that many of them don't have bananas in them, so we shall be doing some experimentation, especially this summer.
BONUS: One unadvertised benefit of Yonanas that we discovered is that it does not melt as fast as ice cream, perhaps because it is made with pure fruit and no added liquid.
The trick is to freeze the bananas when they are "spotted" – overly ripe but not yet quite rotten.  If it looks like any other fruit is on its last legs, don't throw it out and don't wait.  Pop it in a freezer bag and into the freezer.
So the first question I had, and I have been asked by others, is "Why not just do that in the blender?"  In fact, I make plenty of smoothies in the blender, as regular readers of this blog know very well.
READ ALSO: Six Sneaky Juicing Diet Tips
READ ALSO: Protein Powder – not just for shakes
READ ALSO: Why use protein shakes?
But smoothies are drinks, and from my experience, regular blenders don't work well without sufficient liquid. To make something the consistency of gelato requires a different machine.
FRUGAL YONANAS TIP: At your local grocery store there is probably a "Reduced for quick sale" rack that you might have never noticed before.  It's the place where you buy fruit and vegetables on their last legs at a huge discount, like Penny does.  Most people won't buy from that rack because chances are that a lot of what is there will spoil before they eat it.  But bananas and other fruit are just perfect for freezing at that point, so buy anything you wish for your Yonanas from the "Reduced" rack (maybe not green peppers, though).  So Yonanas is a healthy treat and a cheap treat.
How to get your own Yonanas machine
There are three ways for you to get your own Yonanas machine:
Look for one in a local store, as my wife and daughter did for me (and one of my brothers has since picked one up, too)
Shop online at http://yonanas.com/shop/
Win one below (Giveaway now closed).
Yes, I asked Yonanas if they would be willing to supply a free machine to one lucky reader, and they said they would.  So we did a Rafflecopter Giveaway.  The winner is @JustPlainSuzi. Congratulations!
This giveaway was open only to residents of the US and Canada, as that is where Yonanas can ship right now.
* This post has been edited to reflect the completion of the giveaway.