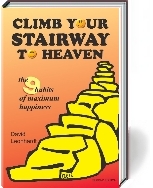 A motivational and inspirational self-help book to help you find happiness in your daily life, by David Leonhardt, The Happy Guy




or SAVE $8.00! plus no shipping fees
Get the "instant access" ebook now
Letter from the author, David Leonhardt

Saturday, April 13, 2006.
Good Morning Happy Person!

If you got this far, you are probably already a happy person seeking even more happiness. Happiness is a choice and you are choosing happiness right now. That's great news. You are a happy person, and your life is about to become happier.

Imagine your life becoming happier – not just today or tomorrow, but every single day. That's why this book is about habits, because your habits affect how you feel every single day.

I am so excited that you have come to this page to learn how Climb your Stairway to Heaven can help you make your dreams come true. This is quite a unique book. Oh sure, there are self-help books on many personal development topics, but few of them focus on finding the happiness so central to our well-being.

Montreal Review of Books loves this book:"His nine habits are achievable. All this is delivered with pop quizzes, stories and quotable quotes. A great spring pick-me-up."

You can even find several happiness books, some on happiness tips. I should know; I researched the market before writing this one. After reading many of them, I was left puzzled. Shortly, I will tell you about some of the fun and magical activities you will experience through this book, but first let me share with you what I found in the bookstores.

Why this is a BETTER book on happiness.

There are several happiness books that are inspirational, with pretty sayings and quotations and aphorisms, but they don't motivate readers to go beyond just reading and change their habits. They don't give practical ideas to apply in day-to-day life. This book on happiness has all the positive quotes and sweet sayings you could soak up … and it goes way beyond to give you practical ideas and useful tips to make your daily life happier. You'll flip when you read below how many practical tips I've crammed into one book.

"I want ideas to …"  

Many happiness books on the bookstore shelves are just some author's personal viewpoint. That's fine, if you happen to be extremely similar to the author. But what about facts? True, I include many of my own experiences in this book — in fact, that's what inspired me to write. But I also spent three months with my nose in the psychological journals. This self-help book is based on both my personal experiences and the best psychological research available. I did the work so you don't have to.

On the other hand, several happiness books are written by very knowledgeable authorities, but most tend to the boring side. Many even sound like a session on a therapist's couch. What gives? Shouldn't a book on happiness energize you? Motivate you? Inspire you? Pump you up? Shouldn't a book on happiness be fun to read? So I decided to write a fun, energetic, and engaging book. Go figure!

Khamla in San Diego enjoys this book:"I must say it one of the best investments I've made. Your writing style is superb!!! Keep up the great work."

In case you were wondering, here are the vital stats:

9 habits for daily happiness
19 chapters
225 pages of information and motivation
173 real life anecdotes and examples
29 fictional stories (including fairy tales for adults)
22 amusing cave drawings like this one –>–>–>
229 inspirational quotes and happiness quotes
32 self-help exercises
50 pop quizzes, just for fun
180 happiness tips for you to use today


More of "the art of happiness".

NOTICE: You've just hit the motherlode: 180 fantastic tips you can use to increase your happiness every day of your life.

Is 180 too many? What if you found just four or five gems you could use right now? They are right there waiting for you.




Why did I go to so much effort to make this the very best book on happiness ever? Because I want you to be a winner. That's right … a winner. Climb your Stairway to Heaven will help you win the only game that counts … your life. I get so excited about being able to share such valuable and meaningful information. Can you imagine how pumped up I get when one reader after the other tells me she "just couldn't put it down?"

Readers have given this self-help book 5 stars!


Let's summarize: It's fun. It's factual. It's personal. It's useful. It's inspirational. It's motivational. It's engaging. Lot's of self-help books have some of these traits, but I was determined to write a book with all six. And I did. This is a book you can get excited about. Plus, it is chock full of quotations, "cave drawings", pop quizzes, exercises, and checklists.

As a bonus, I added a seventh trait — this book is interactive. I wrote it to feel like a live, interactive seminar — it's just like being there in person! I wanted you to feel the joy and excitement I felt writing it. Not only can you get excited about this book … you can really put yourself into it.

Click here for your INSTANT ebook copy.
You get it in your hands as soon as you pay.
No waiting whatsoever!

Why this is the BEST book on happiness.

Reader Teresa Young posted this at Amazon.com:"I love this book! It is like the "Seven Habits of Highly Effective People" with humour. Excellent anecdotes and quotes and stories and more......."

Check out just a few of the unique and magical activities you can do with this book (That you can't do with other books on happiness):

Discover the secrets to happiness that eccentrics have mastered.
Take a whirl in "David's Incredible Time Machine".
Copy a simple letter you can write yourself to instantly boost your self-esteem.
Hire a cheerleader.
It's true. The grass really IS always greener on the other side of the fence. Find out why … and what you should do about it.
Learn to overcome four common fears that could be holding you back.
Learn the art of bolsterism – and why it can help you and people around you.
Discover 13 simple stress-busters you can use.
Find out if you qualify for a Darwin Award. (We'll have a little fun with this one.)
Learn about three types of happiness — and decide which choice is best for your own self-actualization.
Learn about explanatory styles, positive illusions and other psychological tools you can use to turbo-charge your happiness.
Find out how to be *happier than lottery winners*.
Discover which holiday we should celebrate every day of the year (Sorry, it's not Christmas.).
Learn valuable lessons from a true story about hippos and a not-so-true story about a tiger and some pigs.

Midwest Book Review recommends this book: "Climb your Stairway to Heaven is enthusiastic, original, uplifting, motivating, and highly recommended ..."

And that's just a few exciting events and discoveries I've packed into this fun-filled and motivational self-help book. All this for just $19.95. And for the ebook, you can save $8.00 plus save postage costs.

Get immediate access and save $8.00!
No matter where you are, no matter what time it is!

Still undecided? Feel free to browse the back cover or read a free sample chapter.

Bonus. Bonus. Bonus.

As if all this is not enough, I've lined up some truly superb free bonuses to give you as a special gift along with the purchase of this book. Click here to read about the bonuses.

Or…

If you don't want your book signed and you don't mind Amazon's high shipping fee,
Get my happiness book at Amazon.com
Find more happiness self-help books at Amazon.com 

Order Now!  |  Earn Money! |  Contact us.